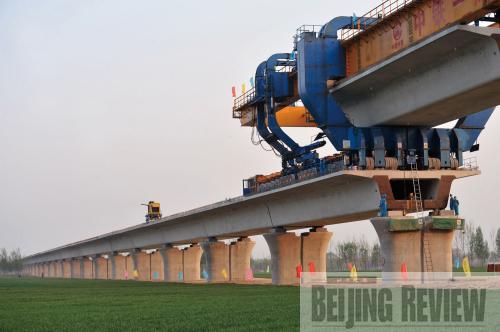 MAKING CONNECTIONS: Workers build the technologically advanced Beijing-Shanghai high-speed railway in 2009 (HE JUNCHANG)

Another head-scratcher facing the builders was how to protect the vulnerable Tibetan ecosystem, including the vast wetlands and a variety of wildlife. To minimize damage to the wetlands, engineers fostered artificial wetlands by the side of the railroad and then transplanted the turf dug up for construction to the artificial area. Moreover, 33 bridge-like special safety channels were built to allow free migration of Tibetan antelopes and other wild animals.

"The passage is a last resort in wild animal protection-it is a compensatory measure granted by humans to animals," Yang Qisen, a zoologist with the Chinese Academy of Sciences, said in a statement.

Since the railway crosses hundreds of seismic belts on the plateau, earthquake prevention efforts are important for its smooth operation. As much as possible, the railway line has sought to meet the seismic belts at right angles and avoid using tunnels and bridges, which are particularly vulnerable to tremors. With those efforts, the railway has survived a number of disastrous quakes including the Kunlun earthquake, measuring 8.1 on the Richter scale, which struck on November 14, 2001.

Roaring ahead

While the Qinghai-Tibet Railway winds its way through mountains and wetlands, the Beijing-Tianjin intercity railway impresses more with its lightning speed. It shortens the rail journey between the two cities to half an hour, carrying passengers at a top speed of 350 km per hour on special bullet trains with spacious and plush interiors.

A glimpse at its domestically manufactured CRH-3 (China Railway High-Speed) trains explains how they glide along so effortlessly. Their streamlined shape minimizes air resistance, and the train body, made of aluminum alloy, features low noise, high durability, and weighs about 30 percent less than ordinary ones. More importantly, the high-speed trains are equipped with multiple engines embedded inside separate units, instead of being driven by a single engine. Their total power output is 8,800 kw, which was achieved by distributing multiple traction motors underneath the whole train. They are also equipped with an advanced and reliable brake system and a high-speed bogie.

Since the interval between flashing trains is only three minutes, the question inevitably arises-how can the trains ensure safety during operation?

The greatest insurance is believed to come from the railway's unprecedented ballastless track. Laid on asphalt and concrete supporting layers, the tracks assure stable position and stand up to heavy loads of high-speed train traffic. Low maintenance expenses and life-cycle costs add to its advantages.

One prerequisite for running a high-speed railway over the long term is track stability, which may be eroded by land subsidence, particularly in soft soil areas. In response, scientists and engineers clamped down on exploitation of underground water along the railway line to minimize land subsidence and also built tracks on adjustable bridges whose bearers can be lifted in the event of subsidence. Their efforts are paying off, as the trains have been running smoothly since the railway line came into operation last year.

Among the innovative scientific creations applied on the railway, the CTCS-3 (Chinese Train Control System-3) is crucial. It automatically monitors and controls train operation according to real-time information transmitted through its wireless communication network. Using this world-class control system, trains can avoid collision, control speed and share safety information between drivers, dispatchers, train engineers and station controllers.

The Beijing-Tianjin inter-city railway is a classic combination of safety and speed built on the back of modern technologies, said Zhang Shuguang, a senior engineer with the Ministry of Railways (MOR).

The trains automatically stop running in quick reaction to any mechanical breakdown discovered by the control system, he added.

Eyeing the future

As China endeavors to facilitate economic growth with a modernized, nationwide transportation network, its scientific innovations are grabbing the global spotlight. The country has dazzled the world in the past few years with a string of technological and scientific breakthroughs, such as the debut of 20,000-ton heavy-haul trains, new methods of railway information management and an intelligent CTC (centralized traffic control) system, Minister of Railways Liu Zhijun said in a statement. The computerized CTC system enables automatic management of train dispatching and railway stations.

But China still has a long way to go toward building a highly efficient and reliable railway network, said the minister, citing the CTCS-3 system as an example that still needs further improvement. Stronger efforts are also needed in the comprehensive detection and maintenance of high-speed railways, he said.

Liu added that the country plans to focus on several key technologies in the coming years, including the construction and management of passenger railways, safety insurance of railway transportation and plateau railway technologies.

Railway officials will also encourage energy conservation and environmental protection technologies on railways and seek to foster a team of world-class railway scientists and engineers, Liu added.