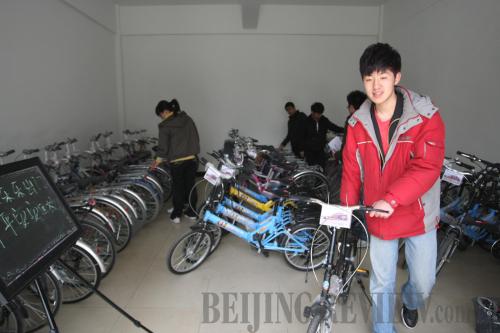 RENTING CONVENIENCE: A student rents a bicycle at Nanjing University Town (CNSPHOTO)
Yang Zheng is a senior at Tsinghua University. He is considering renting an apartment in Beijing with a friend after graduation.
"It's very likely I cannot afford an apartment in this expensive city even after working three to five years, so I choose to rent one," Yang said.
With an average monthly income of about 2,300 yuan ($354), less than one 10th of the average housing price per square meter within Beijing's Fifth Ring Road, many new university graduates share Yang's problem. When buying an apartment is not an option, renting is worth considering.
In fact, renting is nothing new. According to an online survey by China Newsweek, more than 80 percent of 14,000 respondents were renters.
But today, renting has been taken into a new level, a "full rental lifestyle." In addition to apartments, cars, costumes, tuxedos, and digital products such as cameras and projectors, even friends and time are included in renters' categories.
These compulsive renters are known as the "hire clan," or hazuzu. Their philosophy is to spend less money, have fun and improve living standards while avoiding wastes, allowing them to save for necessities.
Xia Xueluan, a professor in sociology at Peking University, said the economic downturn, coupled with worsening inflation and low starting pay, had made renting a sensible option for career starters.
"Young people have been forced to adopt this more rational way of spending and living a low-cost lifestyle," said Xia. "It's a reflection they have gradually been influenced by reality rather than idealism."
A kind of attitude
Yang came from a financially strapped rural family in northwest China's Gansu Province, so he always has to consider renting rather than buying things to relieve his family's burden.
Recently, Yang has been busy looking for jobs and attending interviews. He cannot afford to buy designer clothing, so he visits a clothing rental store every time he has an interview.
"It's convenient for us because the clothing rental store offers a tailored service to students like me for job interviews. We only need to pay 10 yuan-20 yuan ($1.46-$2.93) a day for a suit," he said.
Except for renting clothing to students, according to Zu Ping, who runs the clothing rental store located in the Wudaokou business area near Tsinghua University, her store also rents business apparel to office workers and performing attire to actors and actresses.
"Business apparel is more expensive. The rental prices are 80 yuan ($12.31) to 300 yuan ($46.20) per suit a day," Zu said. "In peak times, I rent out more than 100 suits a day."
Maybe students such as Yang are forced to rent, but many other young people consider renting as part of an easy lifestyle.
They live in a rented apartment, sleep on a rented bed with their rented pet nearby, turn on the rented air conditioner, put their rented DVD into a rented player and watch from a rented television, drive a rented car to work, wear rented clothes for dates, take rented designer bags to parties, hike with rented jackets and boots, travel with rented tents and cameras, and even chat with rented friends.
This kind of lifestyle seems strange in China and is quite a departure from the traditional Chinese idea of ownership. Most Chinese are reluctant to rent clothes, air conditioners, pets and electronics, even if they accept the practice of renting expensive apartments and infrequently used camp tents.
Though most wedding outfits are rented, many people consider worn clothing uncomfortable and dirty, even if they were only worn once and were dry-cleaned. For electronics and pets, most people are more willing to buy and own rather than rent.
However, members of the hire clan have abandoned the old concept and are promoting the idea of renting a life.
Deng Linlin is a reporter at a fashion magazine in Beijing. She firmly supports the idea of renting and is proud of being a member of the hire clan.
"By renting things I need, I can have fun and achieve a trendy life with fairly low costs," she said.
Deng often rents evening dresses and luxurious jewelry for social events.
"Some people might say I'm too materialistic, but it's necessary for me to dress appropriately for these events considering my job. I can't just wear jeans to all those events," she said.
Besides, she also rents bags, plants, pets and digital products such as cellphones and cameras.
"Technology is advancing rapidly and models are frequently updated, especially in terms of digital products. It's impossible for me to keep up with the speed, without spending a large amount of money," Deng said.