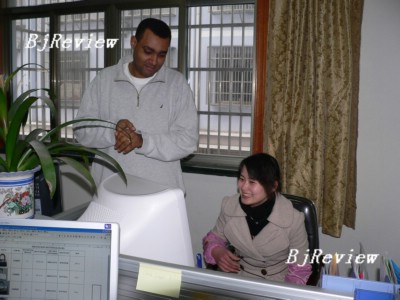 Senge-Senge, a businessman from the Democratic Republic of Congo, operates the Good Will Trading Co. Ltd. in Yiwu, east China's Zhejiang Province. He purchases Chinese goods and then has them transported to his country. Every month, he ships two-three containers of goods. "Chinese products are very popular in my country because of their low price and high quality and, thus, my business is booming," Senge told CHINAFRICA.
Senge owns a large wholesale center of Chinese goods in Butembo, a city in the northern part of D.R. Congo, with 20 employees. He also maintains his own warehouse and office in Yiwu. In a sense, Senge can be considered a successful businessman. However, his road to success was not all smooth sailing when he first came to China.
In October 2004, Senge, who at that time imported goods from Malaysia, found that most of the products he purchased from Malaysia were made in China. So he decided to come to China for a market inspection. After visiting several big cities like Guangzhou and Shenzhen, he chose Yiwu, China's center for small commodity wholesales, to establish his company.
"When I first started doing business here, I faced many difficulties," said Senge. "Luckily, I met Chen Wei with the Ghana Africa-China Trading Association (ACTA) Yiwu Office. With her help, I quickly got in touch with my suppliers and gradually expanded my business."
Like Senge, many African businessmen become familiar with the business atmosphere in Yiwu through the help of ACTA. Unlike other intermediaries, who make their profit by deducting a percentage on each transaction from both the seller and buyer, ACTA supplies free information for its members and provides a channel for the suppliers and buyers to negotiate face to face. In this way, the buyers purchase their goods at reasonable prices.
Established in 2006 in Accra, capital of Ghana, ACTA currently has more than 7,900 members, mainly from the 15 countries in West Africa. It also has two offices in China's Yiwu and Jinjiang (Fujian Province).
"With the expansion of Sino-African trade channels, an increasing number of African business people no longer want to import goods through intermediaries. They prefer to have direct negotiation with suppliers," said Wu Guobin, President of ACTA. According to Wu, intermediaries can never meet the benefits and advantages ACTA offers, such as free advice and information for its members.
From trade to service
In 2000, Wu started doing business in Ghana, mainly selling Chinese shoes, carpets and some machines. After China's accession to the World Trade Organization (WTO), his business expanded greatly.
"Before 2001, there were few Chinese business people making Africa their major market, and those who were there did business without any marketing strategy," said Wu. But Wu noticed the great market potential in Africa and grasped the opportunity. He established his Guobin (Ghana) International Trade Import and Export Co. Ltd. in Accra in 2000. "This is my first great achievement in my career."
According to China's WTO commitment, China amended its foreign trade law in 2004, giving greater opportunity to Wu and his company. With his stable customer base, popular products, reliable supplies and abundant experience in doing business in Africa, Wu greatly expanded his business in Ghana.
With the increase in the number of foreign trade companies in Yiwu, many trade organizations have found great business potentials in Africa. After the Forum on China Africa Cooperation Beijing Summit in late 2006, a growing number of African business people came to Yiwu to seek business opportunities, making a great impact on local foreign trade companies. With great foresight, Wu made the decision to establish an information platform for African business people in the city while continuing to maintain his company's original trading function.
"We can bring our African members to inspect enterprises in Yiwu where they can also place orders. We profit by providing high-quality services," Wu is very satisfied with the new direction his company has taken. Within only two months, dozens of buyers from more than 10 African countries have found their business experience in Yiwu very satisfactory.
Wu noted that China's accession to the WTO and the Forum on China-Africa Cooperation are giving a great impetus to Sino-African trade, especially for traders like him, who have a long history of doing business between China and Africa.
"Every step in my company's development has come at just the right opportunity. Company decision makers should develop the ability for identifying foreign trade trends. I believe an increasing number of business people, as long as they have an intelligent business plan, can find compatible business partners here."
Primary achievement
ACTA's services have provide great benefits for African businessmen like Senge by allowing them to talk directly with local manufacturers and strike various forms of long-term agreements.
"We help African businessmen in finding suitable manufacturers in Yiwu, bypassing intermediaries, which can reduce their purchasing costs. At the same time, the manufacturers can also maintain their rate of profit," said Ye Zhanqing, Sales Advisor of ACTA Yiwu Office.
In October 2006, organized by the association, more than 10 business people from Nigeria, Zambia, D.R. Congo and Yemen visited Yiwu to seek new business opportunities in China. They then went to the Jinjiang Office to inspect companies in Fujian Province.
After inspecting Fujian Jinjiang Benma Mosquito Repellent Incense Co. Ltd., Nigerian businesswoman Ally Obeng showed great interests and indicated her desire to act as an agent of the company. The two sides immediately signed an agreement, and now Ally is the top agent of Benma mosquito repellent incense in Nigeria.
Chen Wei, Manager of the Membership Department of ACTA, deals with many challenges every day. "Many African business people who are not our members also turn to us when they face problems relating to their business with China, and we are ready to help them," she noted.
In September 2006, an Ethiopian businessman ordered jeans in Guangzhou. He paid the initial deposit, but could not pay for the rest later owing to cash flow problems. According to the agreement, the manufacturer may sell the products to other buyers. But the Ethiopian, who wanted the products very much, turned to Chen Wei for help. After talking with ACTA, the manufacturer agreed him to pay by installments.
With the rapid development of Sino-African trade, ACTA has kept improving its service. Some African businesspeople, no longer satisfied with simply selling Chinese goods, also want to sell their own products in China. "After a long-time stay in China, they would find that China is not only a huge manufacturing base, but also a big market. Currently, we are considering a suggestion from a Nigerian businessman of selling wood products produced in West African countries to China," said Chen. Samples have already been shipped to Yiwu.
Helping Chinese enterprises to Africa
"We not only help African buyers find suitable suppliers, but also assist Chinese enterprises in doing business in Africa. In Accra, we have a Chinese products center. This serves as a base for expanding our own business, and a show window for Chinese goods as well," said Wang Chuanbo, Office Director of ACTA Yiwu Office.
According to Wang, the center contains a Chinese hoods exhibition hall. Covering an area of more than 400 square meters, the hall exhibits nearly 1,000 products from 50 Chinese enterprises. This is the first exhibition hall for Chinese products in Africa.
The first batch of exhibition booths were distributed free. In 2007, new booths will be established with a reasonable charge.
"By exhibiting their products, Yiwu manufacturers can show African businesspeople their products before taking orders. This helps avoid trading disputes," said Ye.
Since the number of Africans purchasing goods in Yiwu has kept increasing, most local dealers are busy with their domestic business and do not have the time to promote their products in Africa. Now, the Accra-based Chinese goods exhibition hall has solved the problem--Chinese enterprises can exhibit their products there without having to go abroad. Meanwhile, African buyers can also lower their purchasing costs.
According to Ye, ACTA plans to establish Chinese goods exhibition halls in other African countries like Nigeria, Togo, Mali, Senegal and Cote d'Ivoire in about two years.