There was a very long queue in the main street in front of the Peking University Hall at lunchtime on Oct 20. Almost all the people in the queue, coming from different nationalities, were craning the necks to look forward to the tables at the end of the queue where delicacies from six different countries were being distributed for free. People in the queue could enjoy delicacies from Spain, France, Germany, India, Indonesia and Hong Kong at one time.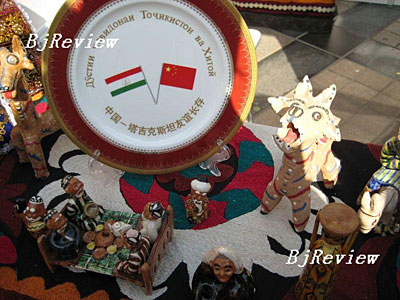 Sounds quite interesting, doesn't it. Yet this was just one part of the Fourth International Cultural Festival of Peking University, which has become a well-known event at the famous university. Started in 2004 with the purpose of strengthening mutual understanding between people from different nationalities, the festival has gained increasing attention and participants. This year, many foreigners attended the festival, including ambassadors from 13 countries, officials from the embassies of 29 countries and students from 67 countries.
President of Peking University, Xu Zhihong and Geoffrey William Raby, Ambassador Extraordinary and Plenipotentiary from Australia gave heart-warming speeches during the opening ceremony urging the students of different nationalities to build a platform for mutual understanding and communication.
The 2008 Olympics was the one of the main themes of the Fourth International Cultural Festival. Each of the 67 countries involved had designed a window to show the sporting spirit and unique characteristics of their nation. Officials and ambassadors from each embassy gathered together with students and volunteers from Peking University to discuss topics concerning sports and the Olympics.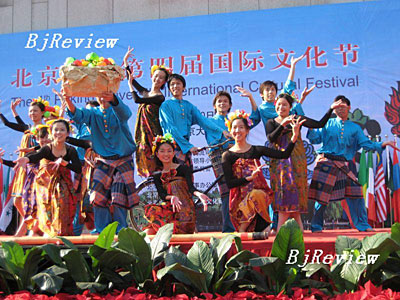 Harmony, another theme of the festival, was also focused on by a series of activities. There was a main stage among the exhibition windows on which students from different countries gave vivid and unique performances with the theme of building a "harmonious world." Well-known glass sculptor Wu Zixiong, with his son and grandson, gave a live show of their exquisite glass sculpture skills. The paintings of Australian artist John Waller were also exhibited at the festival.
Events on the main stage started at 10 am and lasted for more than six hours, concluding with a dance show performed by African students. Almost the whole audience joined in and the university was a sea of music and movement.
"It is really a very interesting festival, and I made friends with lots of people from different countries," said Will Williams, a foreign exchange student from the U.S. studying at Peking University.
The campus of Peking University was effectively turned into a miniature UN during the festival, where people, regardless of nationality, mixed, talked, sang and danced happily together.
Since last year, the International Cultural Festival has been broadcast live on the Internet. This year cooperation with sina.com enabled more people to watch the event. Next year will be the 110th anniversary of Peking University, and the International Cultural Festival, as one of the most important events on the university's calendar, will be bigger and better than ever before.