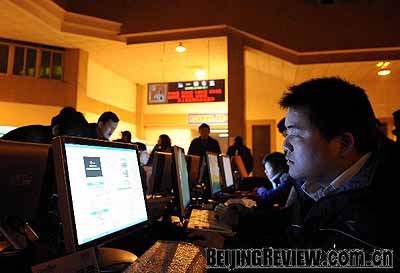 Tencent Inc., best known for its instant messaging service QQ, has emerged as one of China's largest Internet businesses involving Web portals, consumer-to-consumer (C2C) electronic commerce, and Internet gaming during the past 10 years. The number of active QQ accounts has even outstripped that of the U.S.-based social networking website Facebook.
"We plan to develop new e-businesses and improve C2C businesses to cater to and attract more QQ users," Pony Ma (Ma Huateng in Chinese), Tencent founder and CEO, told China Business News last month.
Ma set up Tencent with his friend Zhang Zhidong in November 1998, when the company was so small that it just did service work for Shenzhen telecom operators and paging centers.
Three months after its establishment, Tencent created an instant messaging service called OICQ, which was based on ICQ, the first worldwide instant messaging service. In 2000, after losing a lawsuit to ICQ's owners, Tencent renamed the software QQ to avoid further disputes over intellectual property rights.
To attract more users to the free service, Tencent paid the server cost. By November 1999, the number of registered users was over 1 million. Though it was good news, the server cost became more than the company could afford. Tencent even struggled to pay its employees.
As a result, Ma sought to sell the company. "We negotiated with four businesses but failed, so we had to continue the business," Ma was quoted as saying by Xinhua News Agency on November 25, 2008.
The High-Tech Fair held in Shenzhen in 1998 brought good luck for Tencent, which used the opportunity to get in touch with the U.S.-based investment firm IDG and Hong Kong-based Pacific Century CyberWorks. Tencent received $2.2 million in investment from the two companies in 2000.
But as Tencent's registered users approached 100 million, the company still had no channels to collect income. Then, in 2000, Tencent partnered with China Mobile Ltd. for the telecom operator's "Mobile Internet" (Monternet) program. The program combined a variety of information services, including multimedia messaging, Wireless Application Protocol (WAP) browsers, and mobile games.
"I suggested collecting income through the mobile operator, which was to get 20 percent while the rest went to Tencent," Ma told Business Watch magazine. In July 2001, Tencent began to make a profit, which hit 10.22 million yuan ($1.47 million) at the end of the year.
By 2002, the number of registered QQ users stood at 160 million, along with 50 million active messenger accounts, the largest number of its kind in China. The company's net profit that year was 144 million yuan ($21.17 million), a 14-fold increase. In 2003 profits doubled to 338 million yuan ($39.7 million) according to nanfangdaily.com. In June 2004, Tencent became China's first Internet business to go public in Hong Kong.
Relying on its huge number of registered users, which by July 2008 had surged to 700 million, Tencent has succeeded in many Internet fields such as Web portals, online games, e-mail and search engines.
A report released by Tencent last November said the company has 370 million active messenger accounts. Its income in the first three quarters of 2008 was 1.44 billion yuan ($211 million).
"Tencent's success can be attributed to many factors," Ma said. "But the most important one is the reform and opening up policy, which afforded young people the opportunity to launch businesses." Ma noted that most of Tencent's 780 million registered users are young people. Tencent has also benefited from the opening up policy's tolerance for young people freely expressing themselves on the Internet.
What most draws people's attention is the company's charitable activities. In 2005, Tencent called on netizens to make long-term donations to poor schools and poverty-stricken people in mountainous areas. In 2007, the company established the first Internet charity, investing over 50 million yuan ($7.35 million). Tencent netizens donated 23 million yuan ($3.38 million) to Sichuan Province after an 8.0-magnitude earthquake hit there in May 2008.
With the development of instant communication programs, however, more competitors have emerged. NetEase's POPO, Microsoft's MSN and NET Messenger, Yahoo Messenger and AOL Instant Messenger pose a big challenge to Tencent.
But Ma is not worried. In his view, the instant communication market is not as simple as selling a soft product. It needs to satisfy users with products, services and operations, which Tencent is good at.
"We welcome competition strategically, but tactically we attach great importance to it. We analyze the potential demands of our users, so as to develop more products to cater to them," Ma was quoted as saying by Economic Reference News.
According to Ma, in 2009 Tencent Inc. will also continue to improve its Internet gaming by developing and launching at least one mini online game every month, one medium-sized game every three months, and a multiplayer game every nine months.