Some American scholars have introduced a new perspective on China-U.S. partnership with a win-win mindset, a theory that is expected to help transform the two countries' relationship and bring about lasting peace in the world.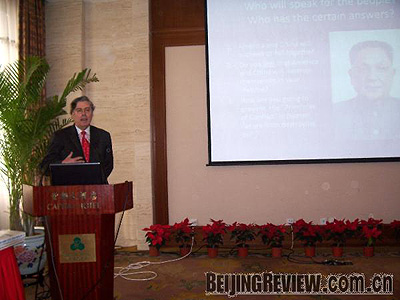 DENG XIAOPING ADMIRER: John Milligan-Whyte, Chairman of the Center for America-China Partnership, presents his new theory of China-U.S. relations at a press conference in Beijing on April 10 (YAN WEI)

While China advocates peaceful coexistence, the United States often treats China according to "principles of conflict" and does not believe in win-win results, said John Milligan-Whyte, Chairman of the Center for America-China Partnership, at a press conference in Beijing on April 10. Against this backdrop, the center has created a "new school of America-China partnership" to help bridge the gap in the two countries' thinking, he added.

Over the past four years, the center has complied seven books in a bid to translate Chinese concepts into concepts that Americans can relate to. It has also published a white paper for Chinese and U.S. presidents, advising them to reframe their policies using its new theory.

"What we do in these books and the white paper is to put in terms that my countrymen can understand things that are common sense to the Chinese," Milligan-Whyte said.

He pointed out that both late Chinese leader Deng Xiaoping and former U.S. President Franklin Roosevelt emphasized that freedom from fear and want are required for a nation's survival and sovereignty. Deng and former U.S. President John F. Kennedy shared a vision for a "genuine and lasting peace."

"Many Americans still have a biased view of China," said Dai Min, President of the Center for America-China Partnership. "We want to make China better understood and accepted in American society. We are trying to replace the traditional theory of America-China relations with the new theory that we have discussed in great detail in our seven books."

American foreign affairs and economic scholars have been unable to transcend their zero-sum game mindset on U.S.-China relations, said Xi Runchang, a research fellow at the Institute of World Economics and Politics under the Chinese Academy of Social Sciences. The new school of U.S.-China partnership has rejected the traditional approach; instead, it seeks to address the issue of international security based on the principles of peaceful coexistence and a win-win strategy, he said.