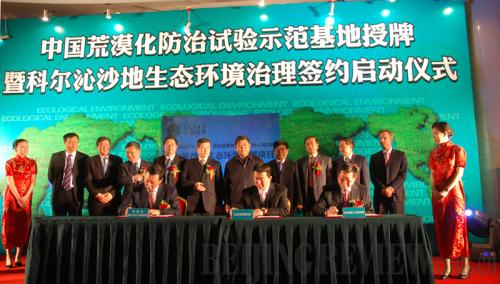 A ROSY PROSPECT: The signing ceremony for the Horqin environmental management project in north China's Inner Mongolia Autonomous Region is held in Beijing on January 25 (CHEN RAN)
The desert regions of north China's Inner Mongolia Autonomous Region will see revitalization and renewal as the result of a new environmental management project. A signing ceremony for the project was held in Beijing on January 25.
Under the agreement, the People's Government of the city of Tongliao and the Kubuqi Desert-based Elion Resouces Group will work together to reduce the effects of desertification in Tongliao's Horqin District. 
Located in the eastern part of the Inner Mongolia Autonomous Region, Horqin was once a fertile grassland before the emperors of the Qing Dynasty (1644-1911) began to overcultivate the area. It is the largest area of desert in the entire country. The Chinese Government has made efforts to build a "Green Great Wall" in the country's northern area to deal with water loss and soil erosion. The regional government has also invested nearly 40 billion yuan ($5.86 billion) over the last decade in an attempt to prevent the desert from becoming even larger.
"We have more than 20 years of experience in fighting desertification in the Kubuqi Desert, which will help the project in Horqin," said Wang Wenbiao, board chairman and president of the Elion Resources Group.
Wang said his group has invested over 2 billion yuan ($285 million) in the Kubuqi Desert over the last 22 years. The results paid off, as five roads now criss-cross a region which was once impossible to travel across. Rivers and forests in the region have been spared from the harmful effects of desertification. The desert's citizens have seen great benefits as well; desert reclamation projects have provided jobs and even spawned small towns in their wake.
"We will apply the model that we practiced in Kubiqi Desert in Horqin by developing ecological construction methods, stimulating tourism and encouraging the use of clean energy there," Wang said. "The ultimate goal is to help local people lead a better life."