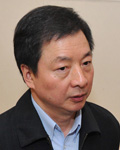 Zhou Mingwei (SHI GANG)
Tensions between China and Japan have escalated further since the end of 2013, as Japanese Prime Minister Shinzo Abe paid homage at the Yasukuni Shrine, where 14 Class-A war criminals from World War II are honored.
How should China deal with Japan under such circumstances? On March 4, Zhou Mingwei, a member of the National Committee of the Chinese People's Political Consultative Conference, the country's top political advisory body, shared his views in an exclusive interview with Beijing Review.
"I am deeply concerned over the deteriorating relations," said Zhou, President of China International Publishing Group and an executive member of the Chinese People's Association for Friendship With Foreign Countries.
According to Zhou, Sino-Japanese relations have always been an important part of China's diplomacy. Unfortunately, a small number of people in Japan are attempting to overturn history, denying the outcome of World War II and the resulting postwar international order.
"Their attempts have become a major barrier for Sino-Japanese relations," he noted.
Historically, Chinese leaders including Chairman Mao Zedong and Premier Zhou Enlai had a clear mind in dealing with Japan--they managed to separate Japanese political leaders from the ordinary people, and separate a handful of fascist war criminals from other political leaders. This rule, in Zhou's eyes, still works for today.
"Currently, mutual trust between the two peoples is waning. That is what I worry about most between China and Japan," Zhou noted.
Zhou suggested that any oversimplifying and emotional moves, such as anti-Japanese sentiment, should be avoided.
"To better handle the complex relationship between China and Japan, we need to constantly draw from our experiences of past tensions and conflicts, putting bilateral relations on a track that is in accordance with the wishes of the majority of the two peoples. It will benefit not only the two countries, but also regional development, in the long term," Zhou said.