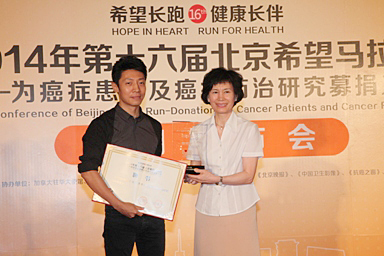 AMBASSADOR: Anchor Sa Beining (left) with China Central Television has been appointed as this year's "image ambassador" for the Beijing Hope Run during the press conference on June 19. The run is on its 16th year and will take place on September 13 (COURTESY OF CIH)
The 16th Beijing Hope Run will take place in Chaoyang Park on Saturday, September 13.
This year's run, covering a distance of approximately 8 kilometers, will start at 9:00 a.m. at the Fireworks Square of the park and end at approximately 4 p.m.
The run is primarily organized and held by the Cancer Institute and Hospital (CIH) at the Chinese Academy of Medical Sciences as well as the China Cancer Foundation, with assistance in coordinating the event provided by the Embassy of Canada in Beijing and the Chaoyang District Health Bureau.
Sa Beining, an anchor with China Central Television, has been appointed as this year's "image ambassador" for the run.
According to He Jie, President of the Cancer Institute and Hospital, more than 270,000 people have participated in the event since 1999, and over 10 million yuan ($1.4 million) has been raised for cancer research and treatment in China through the annual event.
The Beijing Hope Run was inspired in part by the Terry Fox Run, which was the largest single day cancer fundraiser in the world. The run was held in memory of Terry Fox, a Canadian bone cancer patient who ran 5,373 kilometers across Canada in 143 days whilst battling the illness in order to raise funds for cancer research in 1980.
Participants may register by contacting the Hope Run organizers at beijinghoperun@126.com or by calling 010-8778 8380.