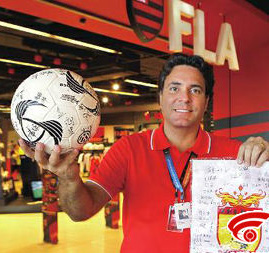 ARRIVING: Miguel Fernandez, Chaiman of Flamengo RJ, receives a signed football and team flag sent by Zhidan Junior Football Team in northwest China's Shaanxi Province on June 17 (YAN WENQING)

On the afternoon of June 22, while football fans waited for the World Cup match live from Brazil, a youth football team from Zhidan County, in northwest China's Shaanxi Province, received their own gift from this year's tournament host.

This Chinese football team had sent a signed football and their team flag as a gift to the 2014 FIFA World Cup, which began June 12 and will continue through to July 13.

The gift arrived in Rio de Janeiro on June 17, and was presented to Flamengo RJ, a renowned football club based in southeastern Brazil. Then, a jersey – signed "From Flamengo to football players in Zhidan" – was gifted in return to the young, aspiring footballers of Zhidan's squad. 

"Through gifts, we can raise awareness of the kids fighting for their football dreams in Zhidan!" said Ding Changbao, 35, head of the Zhidan County Football Association.

A football county

Zhidan County, some 1,600 km away from Beijing, the capital city, is known across China for its school-age footballers. Among less than 150,000 residents, there are currently more than 5,000 amateur footballers including over 3,000 students, which accounts for 30 percent of the local population.

All primary and middle schools in the county, which total 23, and its seven kindergartens have joined a football pilot project launched by the county in July 2010 to develop its football players from a young age. The county has even hosted a football tournament since 2008 to serve as a platform for students to practice.

"The number of teams taking part never falls below 22," Ding said proudly.

The only football club in the county until recently, Ding's association is made up of 25 sponsoring schools and 35 coaches – 30 of whom are amateurs.

However, Ding and the other two football fans established a football club "Window of Zhidan" - the association's former body - in 2003 could never have imagined the popularity of the sport when they joined together.

Back then, Ding applied for 2,000 yuan ($244) from the county government as the start-up capital for the club.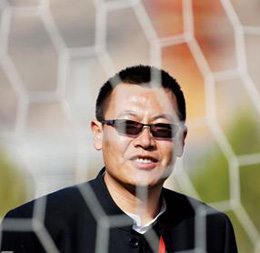 The head of the Zhidan football association, Ding Changbao

"We bought 60 jerseys, some flags and equipment from Xi'an [capital city of Shaanxi, some 400 km away from Zhidan]," Ding recalled.

In spite of having no professional coaches, all the club members were ambitious from the beginning, hoping to nurture young football talents into stars for the world's most populous country.

Players were subsidized by Ding's association with food and two yuan ($0.26) per day as a way to encourage parents to support their children then. The per capita net income of farmers who accounted for 79 percent of the county's population was only around 2,481 yuan ($310) in 2006.