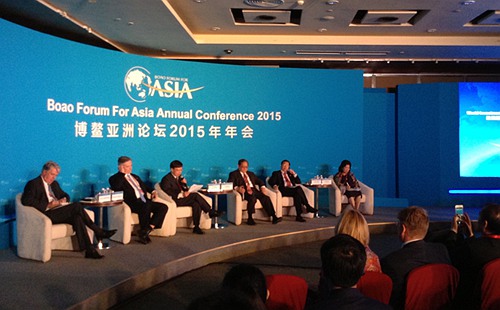 A panel discussion on whether it is possible and feasible to form a global investment agreement on the afternoon of March 27 at the 14th Boao Forum for Asia Annual Conference in south China's Hainan Province (JI JING)
The question of whether it is possible and feasible to form a global investment agreement was examined in length during a panel discussion on the afternoon of March 27 at the 14th Boao Forum for Asia Annual Conference. Most of the panelists showed confidence about the formation of such an agreement. Excerpts of their answers follow:
Long Yongtu, former Secretary General of the Boao Forum for Asia and chief negotiator for China's accession to the World Trade Organization (WTO):
If we could reach a consensus to formulate a global investment treaty under the framework of the WTO, we would be able to benefit investors. Investors want to see the creation of an investment treaty that is applicable to all countries, and this is doable. Trade and investment are inseparable from each other. The WTO is responsible for drawing up the rules for international trade. To some extent, investment is more important than trade when it comes to global economic growth. Given the close relationship between the two, it is possible to establish a global investment treaty based on the current rules governing international trade.
Ding Xuedong, Chairman and CEO of China Investment Corp.:
On the one hand, we should acknowledge the roles that the multilateral, bilateral and regional treaties are playing in solving disputes that cannot be resolved under the WTO framework. On the other hand, such treaties have their shortcomings.
First, these treaties might evolve into investment protectionism as the rules vary from one treaty to another and are largely nontransparent.
Second, all sorts of issues, such as investment, trade, intellectual property, and the relationship between employers and employees are interwoven in these treaties, adding to their complexity.
Third, not all countries' interests are well taken care of in the current treaties. Take the Regional Comprehensive Economic Partnership for example, which involves both developing countries and emerging economies. Among the countries involved, the per-capita GDP of Japan is 40 times that of Myanmar. The rules drafted under such a framework wouldn't be able to meet all countries' interests given their vast differences in terms of the level of economic development.
Fourth, it would be difficult to solve disputes under the present treaties. As there are several thousand treaties that vary from one another, international arbitration will take longer, causing much inconvenience to investors.
I am fully confident that it is possible to create a global investment treaty. At present, we should not give up trying for a universal investment agreement but in the meantime, we should improve the quality of the existing multilateral treaties to provide more convenience for cross-border investments and lay a solid foundation for reaching the global investment agreement.
Mathias Cormann, Australian Finance Minister:
Should we aspire to have a genuinely global framework for investment for the most efficient flow of the investment globally? Sure. Is it likely that we will get there in the short or even in the medium term in terms of a genuinely multinational global agreement? No. The question is then what do we do from here? We should not let the pursuit of global perfection when it comes to an investment framework stop us from making progress between those countries around the world that are willing to make progress in facilitating more trade and more investment.
Let's continue to aim for perfection and make progress in pursuing a really ambitious global investment framework agenda, but in the meantime, let's have countries around the world free up trade and investment flows as much as possible.
Mari Pangastu, former Minister of Trade of Indonesia:
The whole notion of production networks and global value chain makes it more imperative—especially in services—for you to have a more free flow of investment. That should be of great interest to developing countries as well because you want to be part of the global value chain. So in terms of timing, this is the right time to talk about adding more agreements and a consensus on what should make up a good investment agreement.
How should we get there?
There are a number of bodies that have been discussing what are the principles of a good investment agreement. You have it in the OECD (Organization for Economic Co-operation and Development). You have it in APEC. I just looked up the APEC Non-Binding Investment Principles of 1994. They are still robust because we talked about transparency, non-discrimination, national treatment, performance requirements, repatriation and settlement of disputes. It's not a negotiation—it's a process to come to consensus of what the principles are that we want in a good investment agreement, which strikes the balance between investors' protection and liberalization.
(Reporting from Boao, Hainan)