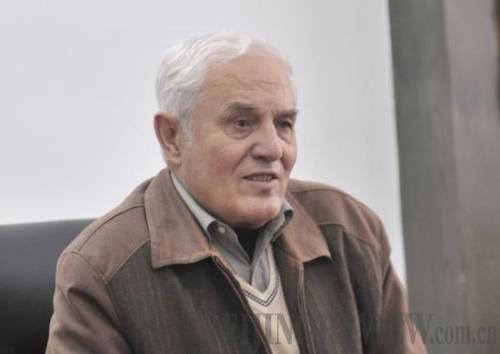 Li Yizu (FILE)
"I am not foreign," 77-year-old Li Yizu always tells people who mistake him as not-Chinese from his unusual appearance.
Li with his foster mother in the backyard of their home in Beijing in 1938 (FILE)
Orphaned by his parents in coastal Tianjin Municipality in 1938, Li still does not know who they are, what nationality they have, under what circumstances he was entrusted to his foster parents from Beijing.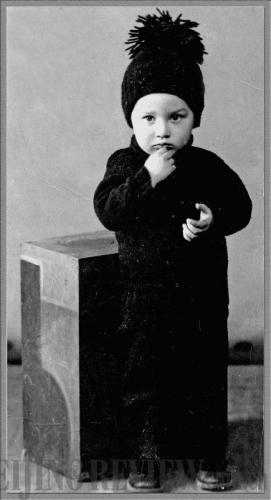 Four-year-old Li Yizu in Beijing in 1942 (FILE)
He was a lucky boy. He received better education than most of his Chinese peers. In 1961, he graduated from Beijing Geological School and found a job in Beijing.
His job was exploring coalmines. Before his graduation, he had been to many cities around the country, leaving only northwest China untapped. Fueled by the government's call on the country's youngsters to build up the underdeveloped northwestern area, he came to Xinjiang Uygur Autonomous Region with 50 other geologists and stayed there until today. Today all his sisters and brothers from his foster family have migrated to the United States and he is the family's only child that lives in China. Although his life as a coalmine explorer gave him many hardships and he had to drift from place to place, he was always optimistic and his love for Xinjiang has never changed.
"After I arrived in Xinjiang, I never wanted to leave. This place has beautiful scenery and kind people," Li said.
In addition to winning him more attention, his high nose, curled hair and deep eyes occasionally got him in trouble.
For several times he was stopped and interrogated while exploring mines in wild fields. He had to show his documents and explain why a foreign-looking man was bent over and digging in the desolated and remote area.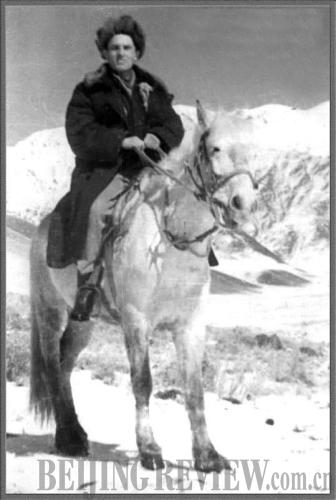 Li Yizu in Wenquan County,Xinjiang Uygur Autonomous Region, as a mine prospector (FILE)
After arriving in Xinjiang, Li was assigned to explore coalmines. Most of the time, he and his colleagues spent months or even more than a year looking for mines in the wild, but he never complained about it. On the contrary, he felt fulfilled and proud of exploring areas few people could reach and seeing beautiful scenery that was unique to Xinjiang.
He never regrets choosing Xinjiang. "I did not feel pain. I feel good about my work. Whenever I saw the natural beauty, I forget all the hardness and fatigue," said Li.
What impressed him most is always the kindness of the Xinjiang people. In 1975, his car was stuck in ditch along the Ulungur River, one of the main rivers in Xinjiang. No one was in sight to help. He walked more than 1 mile to reach a shepherd's home. The house only had an old couple and several little kids. They did not hesitate to follow Li to rescue his car. Li was so moved that he could never forget that kind couple. Although his wife's home town was more than 2,500 miles away in south China, they decided to settle down in Xinjiang in 1972. "Both of us became real Xinjiangers," said Li.
After working in the wild for more than two decades, Li was offered a job in school and then became the headmaster of Urumqi No.41 Middle School before retiring in 1998. After his retirement, he began his life as a volunteer, teaching science to children.  
Owning to his years of working experience in the wild, he tells stories about his adventure out in the open. He has traveled more than 56 counties and cities in Xinjiang and taught nearly 800 classes, but he never asked for a cent.
He tried all his best and never refused to learn new things and explore new fields. Now he can use computers to search for useful material on the Internet.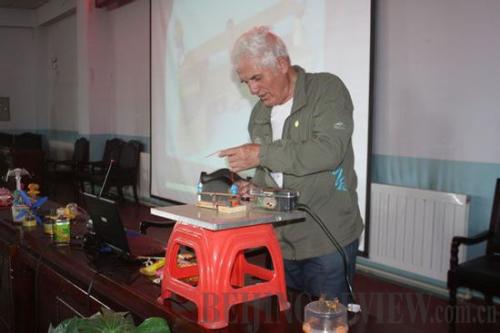 Li teaching science in schools as a volunteer after retirement (FILE)
He always wants to fulfil his life. In his 50s, he and his friend traveled on motorcycle for more than 5,500 miles from Xinjiang to Tianjin where he was adopted by his parents. In 2011, he took a group of TV men to film a documentary on a place little known to others in Xinjiang.
When asked why he loves Xinjiang so much. He said: "Xinjiang has beautiful water and mountains and nice people. I love this place and always want to do something for her."