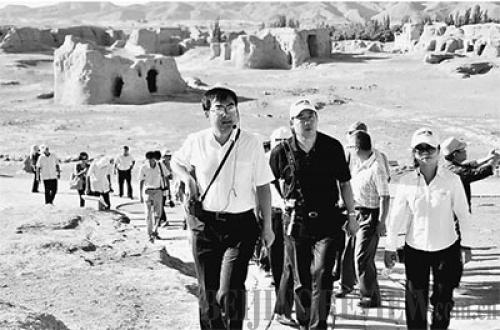 Wang Xiaofei (front left) introduces the situation of the ruins of Jiaohe to the inspection team (FILE)
When the ruins of Jiaohe and Gaochang along the ancient Silk Road, located in what is now Turpan Prefecture of Xinjiang Uygur Autonomous Region, were added on the World Heritage List on June 22, 2014, Wang Xiaofei, Director General of Turpan Cultural Relics Bureau, had never been happier. "I feel excited and proud because my colleagues and I worked so hard during the application process. My years as a scholar have finally paid off," Wang said.
Born in Changchun, northeast China's Jilin Province, Wang first heard about Xinjiang from a textbook during primary school. "There was a section on the Grape Valley in Turpan that really stayed with me," he recalled, "From then on I dreamed of going to Xinjiang."
However it was the rich and diverse historical relics in Turpan rather than the sweet grapes that eventually lead Wang to settle down in Xinjiang. In 2001, he was admitted to the History Department of University of South California after coming out top of his class at the History Department of Peking University. After returning to China with his PhD, he worked as the head of the International Cooperation Office in the National Library until Turpan Cultural Relics Bureau recruited for the position of the director general nationwide in 2012. He seized the rare opportunity to work among the exceptional ruins around Turpan. "Turpan is a living history book. That's why I came here instead of staying in Beijing." He explained.
Turpan had been an important trade center along the ancient Silk Road since the Han Dynasty (220 B.C. -- A.D. 220). An meeting of East and the West, it is a multi-ethnic and multi-religious area with a huge historical legacy. According to the third national archaeological survey, 1,491 immovable historical sites and more than 40,000 movable cultural relics had been discovered to date in Turpan Prefecture. Since his appointment, Wang has led his team to carry out a series of conservation programs, including the application of the ruins of Jiaohe and Gaochang for the World Heritage. "Getting added to the World Heritage list will help more people come to know Turpan, making contributions to its conservation."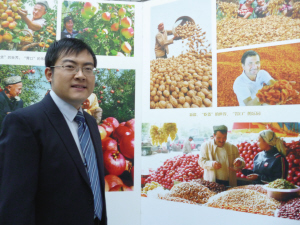 Wang Xiaofei (FILE)
Wang considered his teams' successful application as just a start of the long-term and arduous task of conserving the area's historical heritage. "The restoration of the ruins is complicated. We not only have to deduce the original shape and structure from the existing remains and historical sources, but also make use of cutting-edge mechanical and chemical technology to make sure they stay preserved," He explained.
In addition to the specific programs, Wang was involved in a variety of related supporting work ranging from making the overall plan to developing a publicity campaign. His efforts have paid off. The residents living in Turpan were willing to provide their cooperation for conservation.
"When my colleagues and I did some research in the Gaochang ruin, a girl around 5 or 6 years old said 'hello' in English to us. The warmth and openness she showed delighted me."
For Wang, Turpan is where his dreams have come true. "This is a place worthy of devoting myself to. I want to be a guardian of the cultural heritages along the Silk Road for the rest of my life."