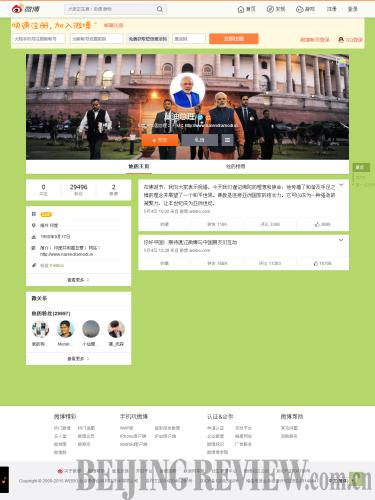 The main page of India PM Shri Narendra Modi's Sina Weibo account as of May 5
Prime Minister of India Shri Narendra Modi will visit China from May 14-16, just before completing his first year in office.
It will mark the third time he has met with Chinese leaders since he welcomed the visiting Chinese President Xi Jinping in India last September and met with Chinese Premier Li Keqiang in Myanmar last November.
In a move that aimed to enhance communication with the public in China, Modi made his debut on the Chinese social media platform, Sina Weibo, a Twitter-like microblogging service.
The Indian PM shared his first post on the platform: "Hello China! Looking forward to interacting with India's Chinese friends through Weibo."
The post got more than 11,500 comments, 8,200 reposts and over 17,400 likes as of May 5, the second day his account was activated, when his fans had already surpassed 30,000.
Modi is an avid and active user of social media for several years. He has used diverse social media platforms to reach out to people across India and the world. He usually shares updates on the workings of the government, policy deliberations, his own thoughts, greetings and replies to well-wishers.