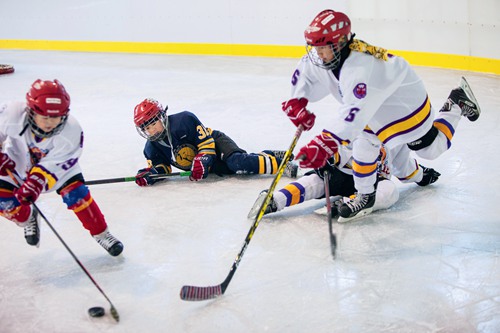 Most parents hope to enhance their children's sense of competition, teamwork and character through hockey training rather than expecting bigger things
"Let's go! Defense! Defense!" foreign coaches shout to players of their respective children's ice hockey teams during a match at Haotai Hockey Club in Maquanying Village, Beijing's Shunyi District. With hockey sticks in hands, kids in purple uniforms swiftly skate from one end of the rink to the other while spectators cheer from bleachers.
In April, Beijing began to bloom and the temperature rose above 20 degrees Celsius. However, parents of the hockey players remained clad in winter clothes to gather around the rink.
Li Yinong and Liu Jiahe are 9-year-old skaters. They are both three-graders at the Elementary School Affiliated to Tsinghua University. Every Sunday morning, their parents take them to Haotai Hockey Club, where they spend an hour learning hockey skills such as skating, dribbling and shooting. After an hour, the hoods inside their helmets are wet with sweat.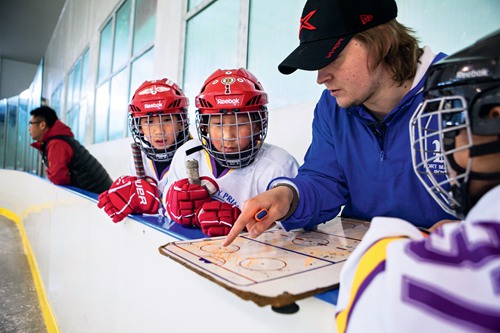 During a match at Haotai Hockey Club in Maquanying Village, Beijing's Shunyi District, a coach explains strategies before players hit the ice
About three dozen kids practice ice hockey at the school. The school's history of hockey can be traced back 62 years. According to Li's father, the sport can help enhance a child's hand-eye coordination and health as well as becoming a hobby that helps players relax after reaching adulthood.
According to a teacher at the Elementary School Affiliated to Tsinghua University, hockey education has been growing healthily in Beijing and Harbin, capital of northeast China's Heilongjiang Province, especially among school children aged 6 to 14. By September 2014, the number of registered juvenile hockey players exceeded 200 in Beijing, and the city's registered hockey clubs increased from six in 2013 to nine. Beijing has become the country's capital for youth ice hockey.
However, most young hockey players give up the sport when they head overseas or enter high school at age 14.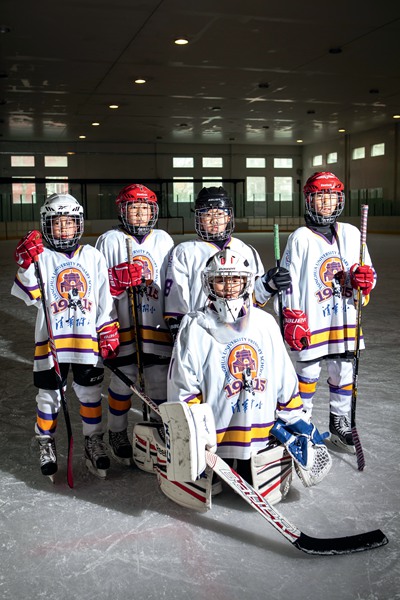 Players from Tsinghua University Primary School
"Few Chinese high schools and universities offer hockey programs, so many juvenile players have no way to keep playing," explains Yu Tiande, head of the Ice Hockey Department of the Winter Sports Administrative Center under China's General Administration of Sport (CGAS). According to him, most Beijing parents who enroll their children in ice hockey learned about the sport during overseas trips. They merely hope to enhance their children's sense of competition, teamwork and character through the sport, and few expect to produce professional hockey players. The situation is different in Harbin, where many players beyond the age of 14 continue training in hopes of reaching professional rinks. However, they soon realize that most professional hockey players don't even earn much money. For this reason, fewer and fewer juveniles receive professional hockey training.
Ice hockey has yet to gain major popularity in China, and a major factor is the high costs of participation. "China lacks any professional ice hockey equipment manufacturers, so everything is imported," remarks a manager of Hockey Supply, a well-known imported hockey equipment retailer in China. "A set of ice hockey equipment costs at least 2,000 yuan to 3,000 yuan ($322-483), with top-tier brands costing more than 10,000 yuan ($1,611). Juvenile players grow fast and need new equipment every year. Even so, equipment costs only a fraction of the price tag for training and league dues."
"Typically, a beginner ice hockey class costs 200 yuan to 300 yuan ($32.2-48.3)," claims a retired professional player who works as a coach in a Beijing hockey club. "In total, training costs about 30,000 yuan to 40,000 yuan ($4,833-6,444) a year. The sum will double and require even more expenditures for competition events."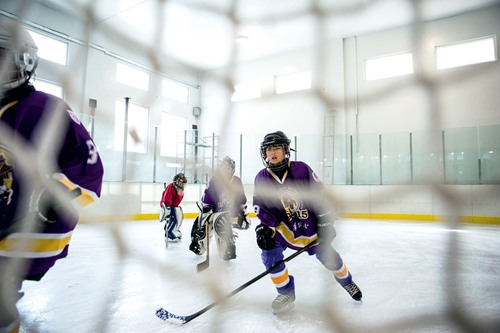 Youth players from Tsinghua University Primary School practice at the Haotai Hockey Club rink
A lack of rinks is another bottleneck hampering the development of ice hockey in China. Rinks in Beijing are always crowded, and sometimes early morning is the only available time slot for hockey training. According to Tong Lixing, Deputy Director of the Winter Sports Administrative Center of CGAS, factors such as the lack of rinks and coaches and the absence of hockey in high schools and colleges hinder the further development of youth hockey in Beijing.
Some consider Beijing's bid for the 2022 Winter Olympics a great opportunity for the development of ice and snow sports, including hockey, in China. However, the majority remain cautiously optimistic over the outlook of hockey due to its expensive costs and lack of rinks.
(Source: China Pictorial)