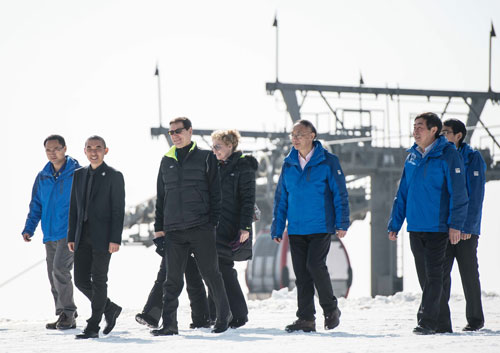 Liu Peng (third right), Minister of the General Administration of Sport, shows members of the International Olympic Committee Evaluation Commission around a sports venue in Zhangjiakou, Hebei Province, on March 26 (WEI YAO)
Beijing's bid campaign for the 2022 Winter Olympic Games holds three concepts as theme--athlete-centric, sustainable and thrifty--which align perfectly with the Olympic Agenda 2020, reform recommendations that promote sustainability in future Olympics. Therefore, the bid is highlighted by optimizing the legacy of the 2008 Olympic Games and utilizing existing facilities and venues, sticking to the principle of developing and constructing new venues with social forces, intensifying venue utilization after competition and strictly controlling the governmental cost of the Games.
As planned by the bid committee, 25 venues will serve competitive and non-competitive events, 11 of which are legacies from the 2008 Beijing Olympic Games. In Beijing, for instance, four out of five venues for competitions can be used immediately. The newly-planned national speed skating rink was not designed specifically for the upcoming Winter Games--when completed, it will be open to the public long before the Games.
The Winter Games in 2022 will leave a number of new legacies, offering better venues for China to not only promote winter sports to the public but also upgrade the competence of Chinese athletes in winter sports and foster more administrative personnel of such games.
Also, the Winter Paralympic Games 2022 will strengthen awareness of helping the people with disabilities and accelerate the construction and improvement of accessible facilities.
Facility Planning of the Winter Games Venues in Beijing and Zhangjiakou
Ice sport events: Olympic Center, Capital Gymnasium and Wukesong Stadium
Alpine skiing, sleigh and snowmobile events: Lesser Haituo Mountain in Yanqing County, approximately 90 km from downtown Beijing
Other skiing events: Chongli County, Zhangjiakou, Hebei Province, 220 km from Beijing
Opening and closing ceremonies: National Stadium (Bird's Nest)
(Source: China Pictorial)