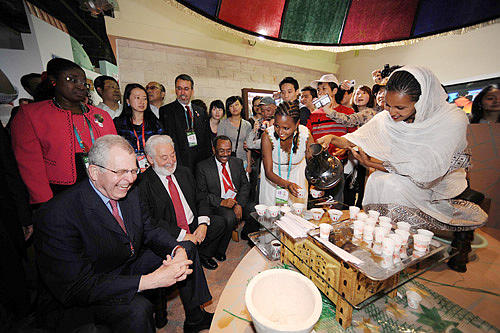 COFFEE BREAK: On May 2, two Ethiopian women serve coffee to Secretary General Vicente González Loscertales of the International Exhibitions Bureau (BIE) (second left) and BIE President Jean-Pierre Lafon (left) in the Africa Joint Pavilion (ZHAO GE)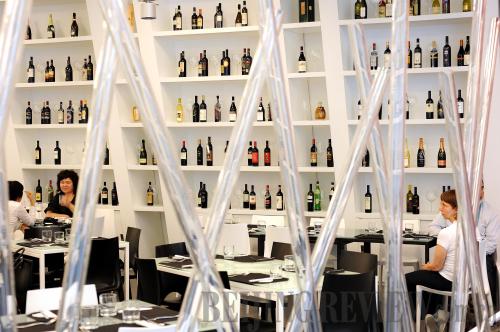 BEST OF ITALIAN CUISINE: Visitors to the Italy Pavilion at the Expo site enjoy Italian wine and food at the pavilion restaurant on May 9 (LIU DAWEI)
After getting out of the subway station at Expo Avenue, the first thing I saw was the Thailand Pavilion with a pavilion beside it cooking genuine Thai food. It was exactly what I wanted after dreaming about eating my way around Expo Park.
The food around the World Expo in Shanghai isn't much to look at because most of it comes in disposable containers, but what's in the container is marvelous. Luckily, many countries have opened restaurants at the Expo. Among others you can sample wares from Japan, Germany and Belgium. Many of the restaurants are separate from the actual pavilion, so you needn't wait in long lines to fill your belly.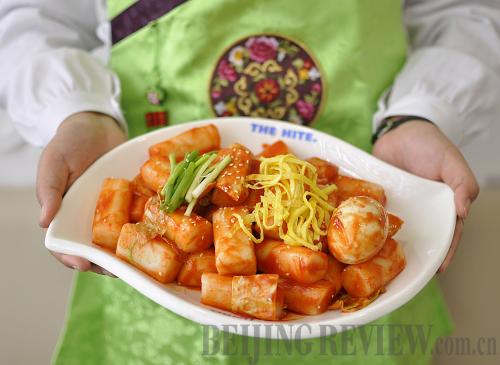 ASIAN DELICACY: On May 8, a waitress exhibits fried rice cakes, a traditional South Korean snack (XINHUA)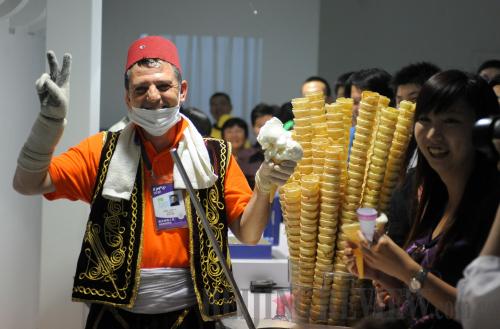 EXOTIC FLAVOR: Visitors to the Turkey Pavilion queue up to buy ice cream cones made by a Turkish chef on May 25 (XU YU)
While in China, food from Thailand and India is easy to come by due to the booming markets for such tastes, but it can be a chore finding cuisine from Malaysia or Brunei. So the presence of these restaurants is a treat for food enthusiasts.
If you want authentic food, you need to go straight to the source, and that's an easy task around the Expo Park.
The phrase "meal time" didn't apply to me while I was walking around the grounds. Being on a diet here was an impossible mission. To make matters worse, aside from regular meals, there's tons of ice cream floating around. I didn't try all the ice cream, but I got my lips around some from New Zealand, Bohemia and Turkey. All tasty, but nothing compared to the Japanese effort. However, I'm sure there are some more good ones I didn't have the chance to try.
I hadn't planned on spending much time on dessert but I was seduced by a particularly savory brownie from the Finland Pavilion. The silky smooth chocolate flavor ended up drawing me in every day, even when I was trying to take a break from going to the Expo.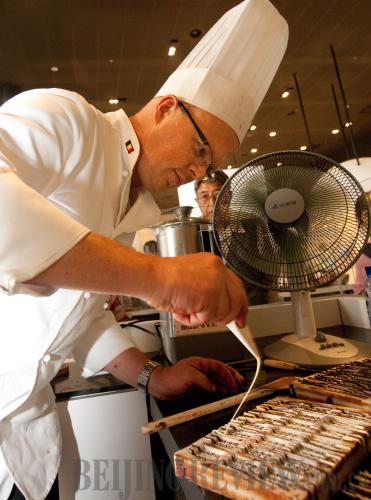 ARTISAN MADE: On May 30, a chocolatier at the Belgium Pavilion demonstrates how to make quality chocolate (XU JINQUAN)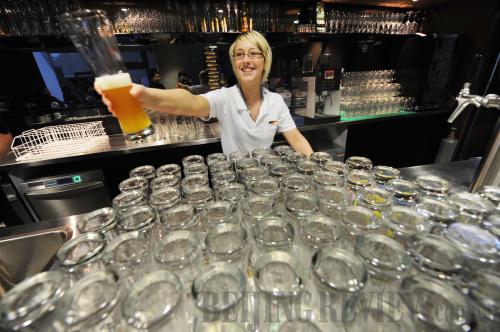 GERMAN BREWED: Beer made in Germany is sold at the Germany Pavilion at the 2010 World Expo site (CFP)
Anything left? Yes, beer! This is something to which I would never say "no." The big German restaurant and the Belgium one beside it make Area B of the park a massive beer garden. I had a chance to explore the world of beer when, after an interview, the manager of the Prague Pavilion treated me to a beer, it was delicious. There's always something new to try at the Expo, you just have to keep your eyes peeled.