Fiber Optic Reeds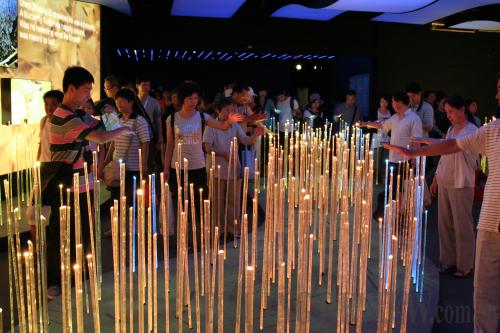 (WANG SONG)
Inside the Shanghai Corporate Pavilion, the Color It Green area is densely covered with interactive reeds made of optical fibers, with tips emitting light.
These brightly lit reeds change color or become brighter when visitors touch them. The colors also change in response to seasonal scenes displayed on this section's wall-mounted screens.
Theme Theater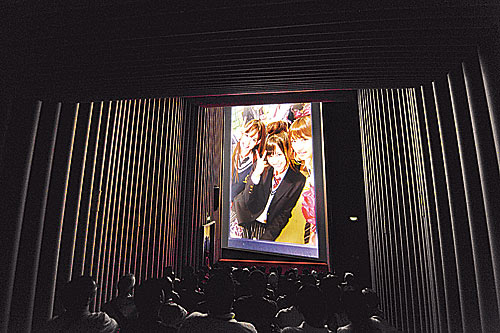 (CFP)
A six-minute video titled UTAGE is on display in the Japan Industry Pavilion's theater. An 18-meter-tall, 10-meter-wide high-definition screen is used for displaying programs created to show the landscape and customs of Japan since ancient times.
The theater's framing paper tubes are made from recycled paper. The installation's interior is made of reused materials designed by globally acclaimed architect Shigeru Ban. UTAGE depicts Japan's progress and development over the last few centuries; snapshots of the country from a variety of time periods are shown here. The theater's high-definition screen ensures that no detail is missed.
Indispensable Petroleum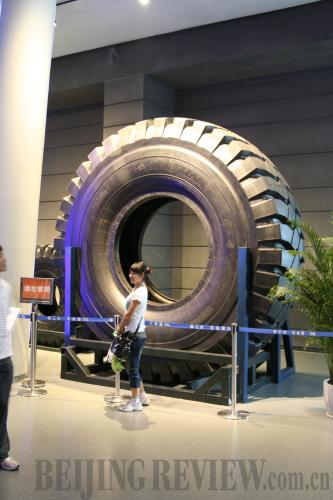 (WANG SONG)
The Oil Pavilion explains how petroleum products meet our needs for clothing, food, shelter, transportation and entertainment. The Oil Pavilion also uses illustrations and models to display the latest technology used in oil and gas exploration, drilling, recovery, transportation and refining.
Models of China's Shenzhou 7 spaceship and the Airbus A380—both of which employ materials derived from petroleum—demonstrate the importance of petroleum in aerospace navigation. The pavilion also shows how petroleum can help people live a green life.
Robots in the Aurora Pavilion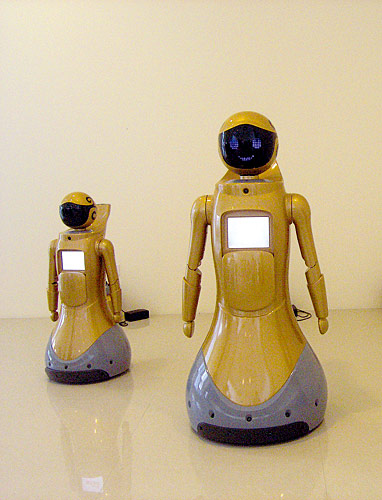 (QIAO ZHENQI)
The Aurora Pavilion, the only corporate pavilion sponsored by a Taiwanese company, features robots that can talk, sing and dance. Visitors to the Aurora Pavilion will be deeply impressed by the three fine Aurora robots on display. These Aurora robots are expected to be used as helpers in our daily lives within a year.
The three robots put on performances every 10 minutes. These versatile robots can speak, recite the Three-Character Primer, and even sing Jasmine Flower, a traditional Chinese song, as well as dance to classical music.
According to the Aurora Pavilion, the exhibition shows how robots may change our lives in the near future. For example, the robots can automatically sound an alarm if there is a gas leak or an elderly family member suddenly gets ill. If a stranger enters the house, the robots will also sound an alarm and send a video feed of the house to the owner's computer or mobile phone.
A Factory in the Germany Pavilion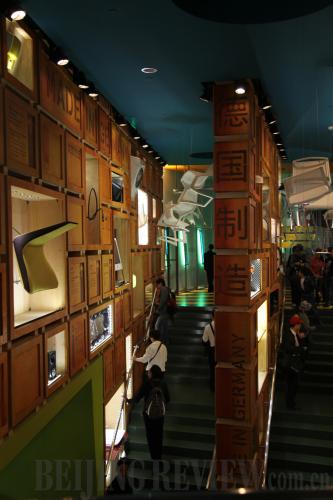 (COURTESY OF THE GERMANY PAVILION)
Inside the Germany Pavilion, there's a room in constant motion, where visitors get around on moving walkways. A conveyor system transports objects above visitors' heads. With the aid of a system controlled by human gestures, visitors can X-ray the objects and access relevant information. Other pioneering key technologies are also featured in the pavilion.
Another area of the factory presents innovative materials developed in Germany, including pollutant-neutralizing roof tiles, fabric-reinforced concrete and organic materials such as artificial spider silk.