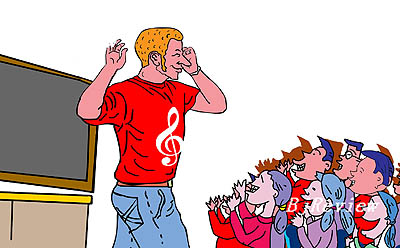 Sometimes, foreign teachers struggle to find a unique voice in the Chinese classroom. They want to help as much as they can and pass along a beneficial skill or language, occasionally one we feel our own country might take for granted. However, when faced with students' requests for classroom "entertainment" that seems trivial and/or childish, our first impulse is to dismiss and move on. The truth of the matter is that this student request, in fact, serves as a clue for gaining a better understanding of the Chinese student and ultimately, how to teach them effectively with fun and practicality.
It's the inevitable request every young (and old) foreign teacher receives from his or her Chinese students: "Sing us a song!" or if a teacher is especially lucky, "Dance!" At first, standing completely still and bright-eyed, I didn't understand what exactly they wanted from me. Did I arrive in China, a country with an insatiable hunger for the English language, to essentially be their entertainer, court jester, and dancing bear? I suppose it is every new teacher's first reaction to assume that these requests are frivolous and somewhat belittling. However, I have learned that at the core of these requests lies a revelatory telltale, leading to the erasure of previous fears and inhibitions for students and teachers alike!
One of the most important things a person needs in order to be an effective and influential teacher, indiscriminate of whatever country's classroom, is the ability to understand who his or her students are and where they come from. So, like anyone who wants to learn about a people seemingly unlike his/her own, I simply turned on the television. As an American, I was completely amazed that there was a country on this planet that enjoys (amateur) singing and dancing performances more than my own. Just when I thought shows like American Idol were a freak, predominately American phenomenon, Idol-esque contests are popping up all over the world, even in countries with strict social traditions. China, where KTV parlors seem to outnumber fast food restaurants, is no exception. It is no secret, the Chinese love to perform and be entertained, especially China's younger generations. So, as a young American teacher teaching English in China, I asked myself how this fact can be of some aid in the pursuit of maximizing learning in my classroom. "How can I use this?"
This past semester I taught a post-graduate English literature class several plays by William Shakespeare, which happened to be my focus in graduate school. I decided to use this truth--the engrained attraction to live performance in the Chinese psyche--to both enlighten and enliven a playwright's poetry that is often set aside by Chinese English learners due to its raw difficulty. I thrashed around the room, sometimes whispering, screaming, singing, and speaking in both masculine and feminine voices, transforming myself into as many different characters as possible. The students, mature post-graduates mind you, giggled and participated in delight. These students, at the end of the semester, having never seen or heard a live performance of Shakespeare, couldn't be happier or more enthused to read, listen, watch and participate themselves in more of the Bard's immortal creations. One student, on the course's end-of-the-semester's evaluation, said she never knew Shakespeare could be "so alive." I fully admit I am not the best teacher of Shakespeare, but recognizing and incorporating the Chinese penchant for live performance fulfilled my objectives beyond my wildest imagination. And I have no doubt this technique can be developed for any subject area, not only English language and literature.
Both the American and Chinese education systems have their flaws; both put an exorbitant emphasis on standardized testing and less importance on developing a student's creativity and social presence. The solution to both countries' problems might be right under their noses. Educational scholar Jeffery Wilhelm, who has done amazing work with incorporating drama and movement in the classroom, calls it "action-oriented learning." In my eyes, teaching has always been to a large extent about performance. Why not use our students' thirst for entertainment in an effective way? Giving the students what they want can ultimately provide what the students need. In my case, it is a win-win.