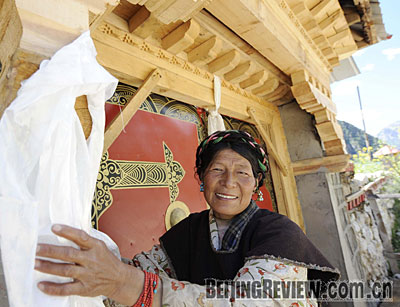 NEW LIFE: A Tibetan woman hangs a hada on her new home in Nyingchi, built with government subsidies coverage (XINHUA)
In recent months, China has been subjected to a lot of unfair and completely groundless criticism. Western newsmakers appear to be deriving some kind of sadistic pleasure out of the horrifying negative reports that portray Chinese authorities and people in general as some kind of closed-minded villains who are oblivious to the needs of Tibetans, suppressing freedom of speech and flooding Western shops with "cheap unreliable goods." Given the enormous subjectivity of these reports, one is starting to wonder what kind of accusations are going to come next as there are hardly any "deadly sins" left that China has not been accused of.
So why are the Western media so hostile toward China? In my opinion, there are several unfortunate reasons behind this hostility. First of all, the Western media have gradually forgotten what true democracy is all about. Traditionally (in ancient Greece where the term "democracy" is from), democracy was defined as government "for the people and by the people." Therefore, if we consider the concepts of "democracy" and "democratic society" from the authentic perspective-China appears to be no less democratic than the United States, Britain or France. It shows that the ongoing attacks that the Chinese Government is subjected to are motivated by political reasons rather than willingness to show China the way toward so-called "democracy."
In reality, China is being prosecuted for being different rather than for lack of the so-called democratic values. "Democracy" and "freedom of speech"-related attacks are due to inability of the Western media to understand traditional Chinese values as well as the lack of independent media channels in the Western countries. CNN and many of the other mainstream newsmakers are (indirectly of course) dependent on support (both political and financial) they can obtain from government and corporate sources. In some cases, this dependence is transparent and direct. For example, many of the newsmakers (such as SBS TV and Radio in Australia or BBC in Britain) are government-owned. Such dependence makes it impossible for journalists to avoid the obvious pressure to produce reports that are in line with the government viewpoint. Should the reports focus on Chinese achievements rather than shortcomings, they would be unlikely to be published by the press or shown on TV.
Some of the complaints produced by the Western media are rather anecdotal. Recently, the Chinese Government has come under a lot of criticism for the alleged censorship of Internet websites. The critics completely ignore the fact that the majority of the blocked websites contain pornographic or other kind of inappropriate content. At the same time, a recent article by Paul Watson revealed that while establishment media outlets in Britain were spending the lion's share of the time reporting on China's so-called "censorship of political websites in anticipation of the Olympic Games," they ignored the fact that London Pancras International, one of the biggest transport hubs in the West, had already implemented stringent filters that block users of their Wi-Fi service from accessing even mildly political websites. Such double standards are the best evidence that anti-China media campaigns are carefully orchestrated and based on lies rather than on the true facts. The media effectively divert all the attention to the happenings in China while similar (or even significantly tighter) control measures occur in Western countries as well.
Similarly, Sepp Blatter (FIFA President) pointed out in one of his recent interviews that many countries and companies were very keen to get involved in doing business in China, but at the same time used the recent Olympic Games as a convenient platform for criticizing the Chinese Government. In other words, there is a lot of hypocrisy surrounding the anti-China protests. Blatter's statement confirms that the protests are motivated not only by the political closed-mindedness discussed above, but also by trivial economic rationale. From a purely business perspective, it is in the very best interest of the Western countries to turn the Chinese economy into their weak and dependent satellite. Therefore, ongoing political pressures on China are often aimed at weakening its economy and creating economic and social dependency on the West. Deep inside their hearts, many of the journalists behind the anti-Chinese reports hardly believe in what they are writing as they are simply doing their job! Criticism of China is in demand, so it pays off well!
The author is a Ph.D candidate, university business lecturer and CEO of Baron Business Consulting Group of Australia