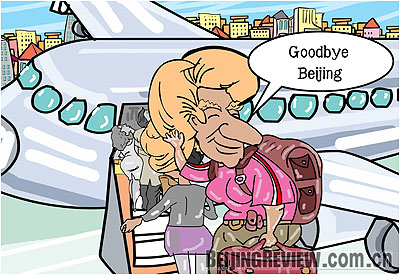 My experience in China has not been about demystifying this culturally complex place or becoming a Sinophile. Old China Hand, China expert--I'm none of those and don't feel any more qualified to write about "the Middle Kingdom" now than I did when I arrived three years ago. The only thing I can say for sure is that I'm leaving a different person from when I arrived. There is nothing like being skyrocketed out of your comfort zone and landing in an unknown place to turn you inward and make you reflect--on the world as you know it, and your place in it--and being in China has certainly done that for me.
When I moved here in 2006 with my partner, I was catapulted into a brand new world I didn't even know existed--that of the accompanying spouse/partner. When I met other expatriates, they'd usually assumed that as a foreign female in my thirties, I'd come here for my partner's job. Even though this assumption was correct, as it often is, inhabiting this world, where my identity became tied to someone else's career, was, quite frankly, a blow to my self-esteem. It took some time and much inner work to finally be at peace with this role and to make sure my sense of self remained firmly intact.
With just two months to go before we leave, no longer grappling with this change and having made China my own, I'm feeling very sentimental about moving on. Perhaps the most magical thing for me has been the people. People come to China for different reasons, and this melting pot allows you to find friendships in unlikely places--where the bond that comes from the shared experience of feeling like a fish out of water becomes very strong-despite differences in age, gender, nationality or reason for coming here. Beijing expats are a great hodgepodge. Many are execs at the peak of their careers who have been handpicked for a China posting, not to mention the fantastic and talented (usually) women who come with them. Others come here seeing it as a chance to have a second go at life, to re-invent themselves. Then there are the bright young things who believe the China experience will give them that much-needed edge. I've met people with a plan, and others here looking for any piece of the action, wherever that may land them. Those who get stuck in, and those who float above the city, afraid to leave the comfort of their expat enclave (something I've been guilty of at times).
I haven't nearly mastered Chinese and this is my biggest regret. My survival Chinese lets me get around the city easily and drive a fierce bargain, but it has been limiting both personally and professionally. More than anything, it hasn't enabled me to ask some of the questions I've wanted to ask (and perhaps this is as much an issue of a cultural divide as it is one of language). Even though I haven't been able to cultivate very deep friendships with local people, struggling with the language has taught me that non-verbal communication can be meaningful too, and you can acknowledge and have a moment with someone without saying a word. I love these moments and they happen almost daily in Beijing. Like when I'm sitting in a taxi and a crowded bus pulls up beside me--those moments of eye contact and checking each other out and wondering about the other's life. Or in the mornings when I'm waiting for a taxi and the security guard at my apartment is standing in his spot at the gate--we're not talking, but we are hanging out.
If I had to go back, I'd do some things differently. I'd dedicate my first few months to studying Chinese (but really studying--not the token two lessons a week) instead of fretting about finding a job. I'd be nicer to taxi drivers who didn't understand my English/incomprehensible Chinese (and ditto the fuwuyuans). I'd spend more time with local people and less time with expats. I'd have gone skiing in the winters, learned taiji and how to cook Chinese food, and read way more books on China. But despite the rookie errors from being a first-time expatriate, I have learned so many lessons--and not just about China. I've learned how important it is for my partner and me to pull together when the going gets tough, how to rely on myself and cope with loneliness when far away from my "happy place," how to stick things out. I've learned that home really is a place inside you. Sure my career has not exploded--not in the conventional sense anyway--but these are the far more precious things I will take with me.