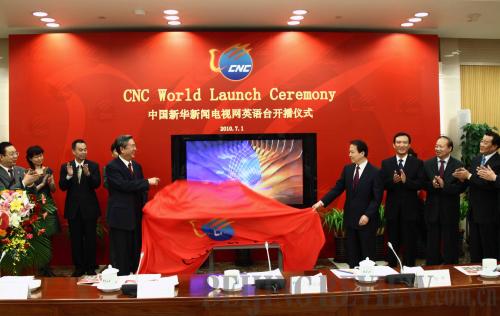 NEWCOMER: President Li Congjun and Editor in Chief He Ping of Xinhua News Agency launch Xinhua's 24-hour English language news service, CNC World, in Beijing on July 1 (YUAN MAN)
Xinhua, China's biggest news wire service, began broadcasting English-language programs on its China Xinhua News Network Corp. (CNC) on July 1. CNC will soon go on to broadcast other programs in French, Spanish, Portuguese, Arabic and Russian.
CNC TV itself, now broadcasting 24 hours a day, was inaugurated in December 2009 amid much fanfare as "an important move for Xinhua to enrich the agency's business sectors and embrace the multimedia world," said Xinhua President Li Congjun during its launch.
These programs herald a bold new step. China, to be sure, already offers its fair share of English-language news that's more than fit to print: There's Xinhua itself, China Daily, Beijing Review and Global Times.
This new international television venture, however, may better advance China's viewpoints than ever—and not a moment too soon, some might say.
Why Beijing has taken so long to better its image remains a very open question. But one way or another, CNC TV staff will have their work cut out for them—not least because of the international competition.
The British Broadcasting Corp. (BBC), which is underwritten by the UK taxpayer, has been a mainstay in international news for decades. It has correspondents worldwide and is beamed into hotel television rooms from Antigua to Zambia. Beyond its establishment status, its reporters are renowned for their specialization in the regions they cover—from Arabic speakers in the Middle East to Spanish speakers in Latin America.
Though it now boasts a comparable reputation, CNN (Cable News Network) doesn't go so far back. Ridiculed as "Chicken Noodle News" after its inception, CNN put itself on the map in the early 1990s with its award-winning coverage of the first Persian Gulf War.
A private-owned entity, CNN offers radically different programming for international audiences and domestic audiences—the latter focusing on national news and sports. Still, for both, it has a good reporting staff and does a good job of scooping other networks.
One of the most challenging news outlets CNC will face, however, is the even newer Al-Jazeera, an Arabic station based in Qatar in the Persian Gulf. Many Al-Jazeera reporters made their name covering the Iraq War starting in 2003—in defiance of cynical spin by U.S. officials like Donald Rumsfeld.
To this day, Al-Jazeera reporters are continually making a name for themselves—not just by courageous reporting from the Middle East, but by expanding their reach to other parts of the world, too. (Most of Al-Jazeera's now covers Asia from its bureau in Malaysia for example, although it now has an office in Beijing.)
China, the Chinese Government and Chinese reporters face other difficulties amid an ever-changing international news environment. News media from some European countries, for example, will always make a point of adding negative angles to any stories about China. Outlets in America, meanwhile, are scattershot: cries against China's currency policies or geopolitical stances can be heard alongside a peculiar, yet urgent deference to China's economic growth—as if it were something new.
But in an Internet age dominated by a 24-hour news cycle, it cannot be disputed that television news has become more important than ever. Despite the quality of publications like Beijing Review and China Daily, the truth is that the best way for China and its government to get its opinions out is by television—something the BBC, CNN and Al-Jazeera have proven so well.
Given how America is such an insular place—and its relationship with China is so important—CNC TV programs in English can only be positive developments. This will certainly apply to other places, too, as English, despite the ailing fortunes of the U.S. economy, remains the world's lingua franca.
Stay tuned.
The author is an American living in Beijing