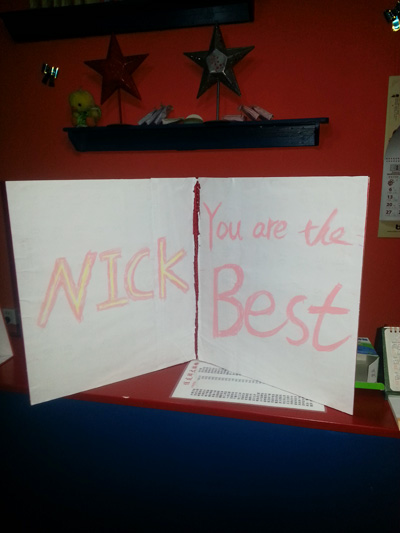 (NICK COMPTON)
In early January, I arrived in Xiamen alone, determined to run my first marathon. After pounding countless km on the Beijing streets and sidewalks bordering Tsinghua University, where I'm enrolled as a Master's student in journalism, I knew I was ready.
Originally, my plan was to run the Beijing Marathon in October. For some reasons, I missed that one. The next best bet, my runner friends told me, was the January marathon in Xiamen—where the coastal scenery is beautiful, the weather perfect, and the support from locals watching along the route legendary. Within a few days, I'd visited the event's website, signed up to run, and bought a plane ticket from Beijing to Xiamen.
My decision wasn't as spontaneous as it sounds. I consider myself an experienced runner; I've completed dozens of 5-km and 10-km events, stretching back to a time when I still hadn't shed all of my baby teeth. The last few years, as my life became busier and my stress multiplied, I used running as my crutch—embarking on long, slow tears to clear my head and enter a sort of meditation. In this way, inadvertently, my conditioning improved, and I began not just finishing in the races I entered, but competing. I won some, was placed in others, and slowly but steadily improved my times. After finishing a half marathon in the United States and thinking "that wasn't so bad," there was only one frontier left: a full marathon.
Ideally, I would have come to Xiamen with some of my friends from Tsinghua's marathon club and run alongside them. The timing was poor, however, and most students had final exams to prepare for, so I was left to make the journey by myself. To save money—and, I hoped, ward off loneliness or boredom—I booked a room at a hostel, just a few km from the marathon's start line.
When my plane lifted off from Beijing, I looked down on a landscape frozen in ice and dusted with snow. Dropping down in Xiamen, the ocean sparkled brilliantly, and the hills surrounding the city were lush green. The temperature difference, I noticed as I grabbed my luggage and stood in queue for a taxi, was dramatic—I took off my jacket and wished I was wearing shorts instead of jeans.
My hostel was owned and operated by a family who spoke next-to-no English, rarely entertained foreign guests, and was fascinated by all things Western. Using my hesitant, choppy Chinese, I explained to the owner, his wife, his brother, and his college-aged niece, that I was in Xiamen to run a marathon in a few days, and just wanted to rest before the race. Over tea and sunflower seeds in their garden patio, they questioned me about my hometown, my siblings, my studies at Tsinghua.
"You know," the owner said, pointing to his young niece, "she still doesn't have a boyfriend. Maybe you could help."
I politely ducked away from that suggestion, telling them that I had a girlfriend, and few of my friends were single.
On the day of the marathon, I popped out of bed at 5:30 a.m. and gathered my things in order to catch a cab in time for the race's early morning start. As I stepped out of the door and entered the lobby, I was floored by the owners' thoughtfulness. On the front desk was a large, folded cardboard sign that said "Nick, You Are the Best." It was obviously written in the niece's careful hand, and immediately motivated me—knowing that I had support in such an unfamiliar place was hugely important.
The marathon was as promised. It was well organized, the route was gorgeous, with the pale blue ocean in sight most of the time, and the weather was ideal. What struck me most, though, was the support I received from thousands of locals who stood near the path and shouted words of encouragement, "jia you, jia you, kuai pao!" Some brought bananas or water to pass out to the runners. Others dressed up in costumes to cheer even louder.
As I passed the 35 km mark, my legs already rubber and my will power beginning to fade, I saw a familiar sign—"Nick, You Are the Best." The owner and his niece were standing along the path, yelling my name, yelling for me to suck it up and run faster. Seeing them, knowing that they went out of their way to come root for me, sent a surge of new energy coursing through my body, and I pushed through the last 7 km, finishing in just more than three hours.
Meeting with the owner after the race, I thanked him and told him how much his support meant to me. He laughed and once again pointed to his niece.
"She still doesn't have a boyfriend," he said, hoping I might reconsider.
The author is an American living in Beijing
Expats, we need your stories!
If you're an expatriate living or once lived in China and have a story to tell or an opinion to share about any aspect of life here, we are interested in hearing about it. We offer payment for published stories (700-900 words). Submissions may be edited.
Email us at: zanjifang@bjreview.com
Please provide your name, nationality and address along with your stories