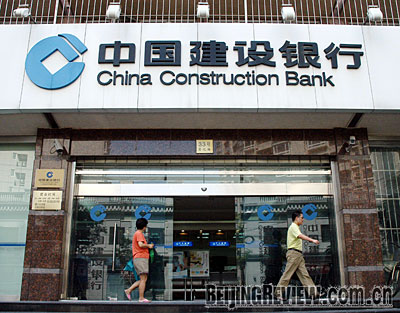 NO MAJOR DAMAGE: China Construction Bank holds the most Lehman Brothers bonds of all Chinese financial institutions, but the amount will have a limited impact on its profitability in the next half of this year (XINHUA)
"Unbelievable! We hadn't been told anything. We are shocked by the news!" said a worker at Hua An Fund Management Co. Ltd. in Beijing, who declined to be named because of company rules that prohibit employees from talking to the media. His words reflected his firm's concern and uneasiness over the recent declaration of bankruptcy by U.S. investment bank Lehman Brothers Holdings Inc. and how it would affect Hua An Fund Management.
The money management center of Hua An Fund, located in Beijing's prosperous Financial Street area, manages 12 funds that have provided investors with high returns during the past few years. One of its more notable funds is the Hua An International Balanced Fund, the first qualified domestic institutional investor (QDII) mutual fund product, which invests in foreign financial markets. It was the first QDII product in China, but now it is the only one affected by the Lehman Brothers' crisis.
Lehman Brothers Assets Management (Europe) and Lehman Brothers Europe Ltd. are the foreign investment consultants for the Hua An International Balanced Fund. In addition, Lehman Brothers Finance SA, a unit of Lehman Brothers, guarantees the structured notes held by the Hua An fund. The portion of the structured notes accounts for 99.6 percent of all assets held by the Hua An International Balanced Fund.
"We are still in negotiations with Lehman and are counting the losses of the principle guaranteed notes," the Hua An Fund Management employee said. "We will publish a notice to inform our investors on new improvements."
Lehman's assets in China
Yang Zhizhong, Chairman of Lehman Brothers' China operations, told the media on September 15 that the company was negotiating with other potential investors who showed interest in buying Lehman's assets, including its well-performing assets in China. This seemed to comfort some Chinese investors who hold shares of those assets. Yang also said Lehman's operations would be separated, but he declined to disclose the names of potential acquirers.
Hua An Fund Management is not the only firm affected by Lehman's collapse. Lehman Brothers started exploring the Chinese market in 1993. As of June 30, 2008, it held a 16-percent stake in China Investment Fund Co. Ltd., worth $90 million; a 35-percent of Sunac China Holdings Ltd., worth about $200 million; a stake worth $20 million in Golden Dragon Precise Copper Tube Group Inc.; and a $10-million stake in Qunar.com, a domestic tourist search engine.