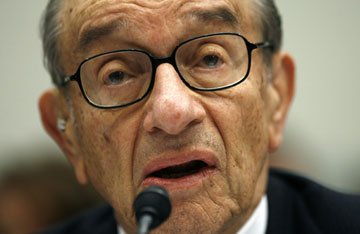 Former Chairman of the Federal Reserve Alan Greenspan testifies before the House Oversight and Government Reform Committee on Capitol Hill in Washington October 23, 2008. The hearing centered on the role of federal regulators in the Wall Street financial crisis. (Xinhua/Reuters Photo)
The dollar continued rising against the euro and the pound on Thursday after former Federal Reserve chairman Alan Greenspan warned U.S. unemployment would rise further.
Greenspan, who has led the U.S. central bank for more than 18 years, told the Congress on Thursday that the current financial crisis is a "once-in-a-century credit tsunami."
"Given the financial damage to date, I cannot see how we can avoid a significant rise in layoffs and unemployment," Greenspan said.
Greenspan admitted that he was partially wrong for not trying to oversight credit default swaps, complex trading instruments meant to act as insurance against default for bond buyers.
Greenspan said that a necessary condition for the crisis to end would be stabilization in home prices, which would not happen in many months in the future. He said the recently approved 700 billion dollars bailout package could serve the need and its impact was already being felt in markets.
The White House spokeswoman Dana Perino agreed with Greenspan's forecast about unemployment. She also said U.S. GDP numbers for the final two quarters of this year would be tough.
The U.S. Department of Labor reported that initial filings for jobless benefits increased last week by 15,000 to a seasonally adjusted 478,000, higher than expected. The economy is in a recession and the job market will continue to worsen, analysts said.
The euro bought 1.2852 dollars in late New York trading compared with 1.2866 dollars it bought late Wednesday. The pound fell to 1.6124 dollars from 1.6337 dollars.
The dollar dipped to 1.1598 Swiss francs from 1.1599 Swiss francs, and fell to 96.05 Japanese yen from 97.97 Japanese yen. It rose to 1.2598 Canadian dollars from 1.2521 Canadian dollars.
(Xinhua News Agency October 23, 2008)