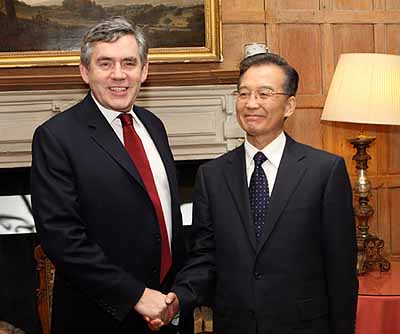 Chinese Premier Wen Jiabao (R) shakes hands with British Prime Minister Gordon Brown during the dinner Brown hosts for him at the British prime minister's official residence on the outskirts of London Jan. 31, 2009. Chinese Premier Wen Jiabao arrived in London on Jan. 31 for a three-day visit to Britain. (Xinhua/Lan Hongguang) 
Chinese Premier Wen Jiabao arrived here on Saturday for an official visit aimed at enhancing bilateral financial cooperation.
"Recent years have seen enhanced China-Britain comprehensive strategic partnership and fruitful cooperation in all areas." Wen said in a statement upon arrival.
"China successfully hosted the 2008 Beijing Olympic Games and Britain will host the 2012 London Olympic Games. This offers us a new platform to deepen mutual understanding, enhance friendship and expand cooperation," said Wen.
"In the context of the current complex and volatile international situation, China and Britain, two countries with major influence in the world, have broad common interests and a noble common mission in maintaining world peace, promoting common development, tackling global financial crisis and other fields," Wen said.
The premier said that he looked forward to having in-depth exchange of views with British leaders on regional and international issues of mutual interest, and extensive contact with the British people from all walks of life to explore ways to strengthen friendship and enhance mutually beneficial cooperation between the two countries.
"I am confident that with the joint efforts of both side, China-Britain comprehensive strategic partnership will continue to grow from strength to strength, bringing benefits to our peoples and contributing to world peace and development," said Wen.
During his three-day visit, Wen will have broad contacts with people from political, business and financial circles of Britain. He will also deliver a speech at the University of Cambridge, according to the Chinese Foreign Ministry.
The trip is a return visit for British Prime Minister Gordon Brown's China tour early last year. It is also aimed at implementing the annual meeting mechanism of the two leaders.
Britain is the last leg of Wen's week-long European tour, which began Tuesday and has already taken him to Switzerland, Germany, the European Union (EU) headquarters in Brussels and Spain.
(Xinhua News Agency January 31, 2009)