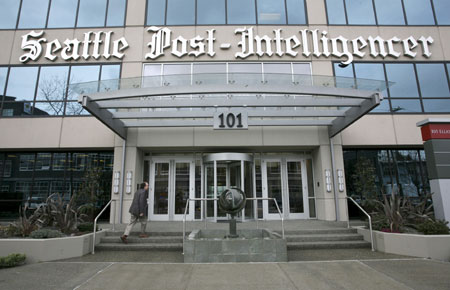 Joe Copeland, editorial writer at the Seattle Post-Intelligencer (P-I) enters the P-I building in Seattle, Washington March 16, 2009. The Hearst Corp plans to roll out the final print edition of its ailing Seattle Post-Intelligencer on Tuesday then move it online, ending speculation about the fate of the 146-year-old newspaper as crumbling advertising and the Internet wallop the industry. The P-I, with a greatly reduced staff, will be the largest daily newspaper in the United States to go online only.(Xinhua/Reuters Photo)
The closing of the Seattle Post-Intelligencer on Tuesday, March 17 shows newspaper business in the United States has been hard hit by the present economic crisis and traditional newspapers are at the cross road in their struggle for survival.
The 146-year-old newspaper in Washington State comes to the end not long after Denver, Colorado lost a daily newspaper earlier this year. The Rocky Mountain News closed after its owner, E. W. Scripps Co., couldn't find a buyer. And in Arizona, Gannett Co.'s Tucson Citizen is set to close this coming Saturday, March 21, leaving only one newspaper in that city.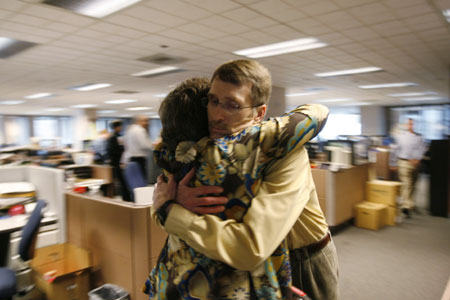 Seattle Post-Intelligencer photo editor John Dickson hugs AME Chris Beringer after Roger Oglesby, publisher and editor, announced to the staff that Tuesday's paper would be the final print edition of the Seattle Post-Intelligencer during a brief meeting in Seattle March 16, 2009.(Xinhua/Reuters Photo)

San Francisco would lose the city's only daily newspaper Chronicle if the newspaper couldn't slash expenses in coming weeks. San Francisco could become the first biggest city in the United States without a daily newspaper.

The Chronicle's 1,500 staff must agree to deep cuts of at least scores of redundancies within the next few weeks if they want the paper to survive.

The San Francisco Chronicle is the 12th most read newspaper in the United States, serving the country's 14th largest city by population.

The crisis in the U.S. newspaper industry has accelerated in the past few weeks. The collapse in advertising revenue, along with the longer-term problem of declining readership, is the major reason.

The flourishing of Internet news is another factor. The newspaper industry in the United States has seen advertising revenue fall in recent years as advertisers migrate to the Internet, particularly to sites offering free or low-cost alternatives for classified ads. Starting last summer, the recession intensified the decline in advertising revenue in all categories.

Four U.S. newspaper companies, including the owners of the Los Angeles Times, Chicago Tribune and the Philadelphia Inquirer, have also sought bankruptcy protection in recent months.

Ming Pao Daily is the first victim among the Chinese language newspapers in the country. It first closed its eastern U.S. edition in January and then closed its western edition in February.

Ming Pao said in a notice on the website that the newspaper had been "deeply affected" by the economic crisis.

News of Ming Pao's closure of the eastern and western editions has shaken the ethnic press industry in the United States. All the other Chinese language newspapers have felt the impact of the economic slowdown in the past few months. The country's leading Chinese newspaper World Journal and other newspapers are seeking ways to survive by improving their website editions to attract additional readers and getting advertising revenue from the website.

New America Media held a forum during the weekend in Los Angeles focusing on "The future of news without newspapers." Professors of journalism and representatives from the ethnic media attending the forum generally believed that newspaper is not dead yet. Just as the emergence of television did not replace radio, the traditional electronic medium, Internet news could not totally replace traditional newspapers.

Frank Sotomary from University of Southern California (USC) said at the forum that in the Internet age, when people could sit at home to read news, traditional newspapers could not remain a large circulation as before, but they could play a role the Internet could not in providing high quality and characterized reports.

Professor Erna Smith said at the forum that ethnic media would be more community oriented. But if they could provide in-depth reports which were different than the Internet, they could keep their readers and survive.

Not all are bad news. A recent survey by Pew Research brings some encouraging news for the newspaper industry. Asked where they usually get news from, about two-thirds (68 percent) of respondents say they regularly get local news from television reports or television station websites, 48 percent say they regularly get news from local newspapers in print or online, 34 percent say they get local news regularly from radio and 31 percent say they get their local news, more generally, from the Internet.

Newspapers have tried to attract younger readers in the Internet age, but the survey shows that it is hard for newspapers to draw the young readers from computer screens. A recent Pew Research survey found that just 27 percent of Generation Y -- those born in 1977 or later -- read a newspaper the previous day. That compares with 55 percent of those in the Silent or Greatest Generations, born prior to 1946.

(Xinhua News Agency March 18, 2009)