Since the global financial crisis deepened in the second half of last year, East European countries have seen their financial systems and economies severely shattered. How did Eastern Europe, a region that was deemed economically secure in the first half of last year, suddenly slide into disaster?
Capital flight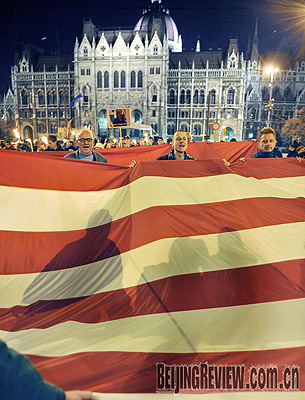 LOOMING CRISIS: Anti-government protestors rally in front of the parliament building in Budapest on March 21. Hungarian Prime Minister Ferenc Gyurcsany resigned that day, citing a loss of popularity and worsening economic crisis (XINHUA/AFP) 

East European countries have emerged from their difficulties since they started the economic transition two decades ago. In the past few years, they have maintained strong growth momentum as they gained indispensable capital for economic development thanks to assistance from the EU and Western investment. In 2007, Eastern Europe attracted more foreign investment than any other region in the world. Of the $780 billion investment that went to emerging markets across the world that year, $365 billion poured into Eastern Europe. Most of the money was spent on financial products such as bank bonds. Since the second half of 2008, and especially since the fourth quarter, West European financial institutions have been pulling out their investment in large amounts, dealing a heavy blow to East European countries' financial systems and economies. The exodus of foreign capital sparked widespread crises in these countries. Some of them suffered from an immediate capital crunch, a sharp decline in the stock market, mounting financing difficulties and an escalating downturn in production.

Eastern Europe consists of small and medium-sized countries that can hardly become economically independent. It carries out around three quarters of its trade with other EU countries. More than two thirds of its exports are products from solely West European-invested companies or joint ventures with West European investment. As a result, any economic slowdown in Western Europe can plunge East European countries into frustration or recession.