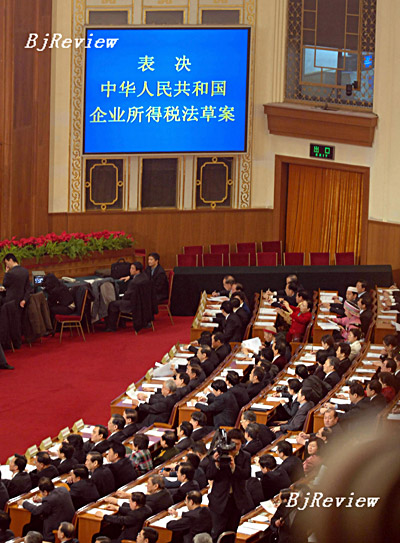 China's parliament, the National People's Congress, adopted the enterprise income tax law Friday morning with 2,826 votes for and 37 against, and 22 abstentions, a key signal of a phase-in end of superior treatments to foreign investors for two decades.
The 60-article law was ratified by the lawmakers as they concluded their 11.5-day annual full session at the Great Hall of the People in downtown Beijing.
The voting result, announced by NPC Standing Committee Chairman Wu Bangguo, was warmly applauded by lawmakers. Four legislators did not cast their votes. The law is due to take effect on January 1, 2008.
Experts say the law marks an adjustment of China's policies toward foreign investment in the current times.
The law, which sets unified income tax rate for domestic and foreign companies at 25 percent, came after years of criticism that the original dual income tax mechanism is unfair to domestic enterprises.
Currently, the actual average income tax burden on Chinese companies is 25 percent, while that on foreign enterprises is 15 percent. Many people think such a policy forces domestic businesses to face tougher competition since China's accession to the World Trade Organization (WTO) in 2001.
"It's a basic requirement of the WTO to create a fair environment for competition, and the new unified income tax will, in a real sense, grant foreign investment the same treatment as domestic businesses," said Miao Gengshu, chairman of the China National Foreign Trade Transportation (Group) Corp.
Apart from increased income tax, foreign companies will also be wiped from some other tax incentives, including pre-tax reduction and tax rebate for re-investment, in the future, insiders say.
China is gradually taking back preferential policies toward overseas-funded businesses, which have been levied the same tax as their domestic counterparts in the use of urban land from January 1 this year.
Preferential taxation and land policies, which are described as "policies superior to national treatment", have always been important attractions to overseas investment since China began the reform and opening-up in the late 1970s.
"It's necessary to offer certain incentives to foreign investors during the initial period of the reform and opening-up, when China was stranded by the lack of capital, foreign exchange and an unsound market system," said Justin Yifu Lin, a renowned economist and a member of China's top political advisory body.
Generous tax incentives have fueled foreign capital influx. China has been one of the world's top destinations for foreign direct investment, taking in 53.5 billion dollars in 2003, 60.6 billion dollars in 2004, and 60.3 billion dollars in 2006 in terms of the amount actually used.
But problems have surfaced along with China's rapid economic development. Dual income tax rates have incurred growing complaints from domestic enterprises, some of which even disguise themselves as overseas-funded enterprises to dodge tax, according to the Ministry of Finance.
Zhang Yansheng, director of the International Economic Research Institute under the National Development and Reform Commission, pointed out that China's situations have changed a lot over the years.
"Capital and foreign exchange no longer bottleneck China's economic development, and thus decline from the top goal of attracting foreign investment," Zhang said.
(Xinhua News Agency March 16, 2007)