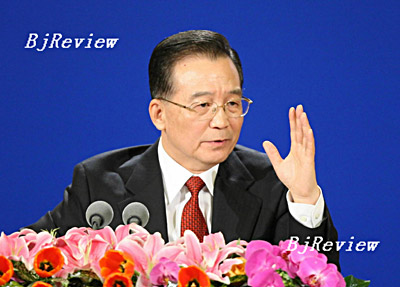 Chinese Premier Wen Jiabao on Friday urged relevant countries in the world to adopt and sign an international convention on peaceful utilization of outer space at the earliest date possible.
Wen made the call at a press conference in the Great Hall of the People in Beijing after the conclusion of the annual plenary session of the National People's Congress (NPC) while answering a question raised by the Associated Press concerning China's January experiment to knock down an aging Chinese weather satellite with a missile.
Wen said the test is not targeted at any country, nor will it threaten any country, nor does it violate any international treaties.
He pledged China will continue to pursue a peaceful development road.
"China always advocates for the peaceful utilization of outer space and we are always opposed to an arms race in outer space," Wen said. "China's position on the peaceful utilization of outer space remains unchanged," he said.
The Chinese premier said that China's annual defense budget is much lower than those of some developed countries, even less than some of the developing countries. He also said that China has a long borderline and sealine to be protected.
Forex investment agency
The creation of a foreign exchange reserve investment company would not affect the US dollar-denominated assets, promised Premier Wen Jiabao
China kept a bulk of its US$1.07 trillion-forex holdings in US-dollar-denominated assets, and this kind of treatment is mutually beneficial, Wen said.
"The proper use of such a huge amount of foreign exchange reserves has become a new problem to us," the premier admitted.
The country is preparing for the establishment of a foreign exchange investment company, Wen said, adding that the agency will not be affiliated to any government departments or institutions.
The new investment entity is aimed at operating the investment in line with state laws to preserve and increase the value of foreign exchange, he noted.
Responding to a question on the rapid growth of China's stock market last year, the Chinese premier said that the Chinese government aims to build a mature capital market and build an open, transparent financial system.
"Our goal is to build a mature capital market," said the premier, adding that the country will continue to improve the quality of the listed companies, put in place an "open, fair and transparent" market and strengthen supervisions over the market.
The premier also stressed that the government should encourage timely disclosure of the information, and improve individual investors' awareness of the capital market's risks.