The Asian Games Town Gymnasium (under construction)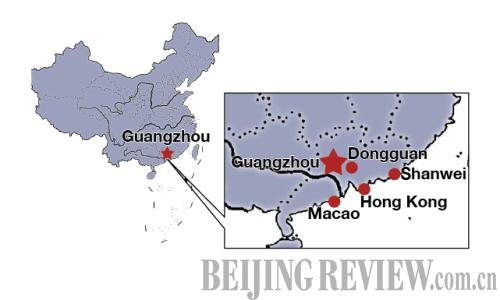 New roads are being built. Old venues are being overhauled. Interior decorating in new venues is proceeding smoothly. Guangzhou, capital of south China's Guangdong Province, is making its final preparations for the upcoming 16th Asian Games.
The Asian Games, the biggest multi-sport event for athletes all across Asia, will return to China this fall. From November 12 to 27, 2010, the subtropical city Guangzhou will host the 16th Asian Games during its most agreeable season, 20 years after Beijing hosted the 11th Asian Games in 1990.
Proven experience indicates the hosting of international sports or cultural events provides host cities a unique opportunity to rev up economic growth and urban development. Guangzhou is availing itself of this opportunity to improve its infrastructure and achieve goals of urban expansion.
In addition to borrowing successful practices from Beijing, organizers of the Guangzhou Asiad have done the work in a low-key, pragmatic and tolerant approach typical of Cantonese.
 

The artist's concept of the completed Asian Games Town Gymnasium 

"The inclusion of as many as 14 non-Olympic sports in this event allows the event to be highly representative of all Asian countries and inspires mass participation," Sun Xiuqing, Deputy Director of the Communication and Promotion Department of the Guangzhou Asian Games Organizing Committee (GAGOC), told Beijing Review.

While making venue arrangements, the organizers addressed the issue of post-Games commercial operations and also the utilization of new venues.

"Venues are built or renovated to make them compatible with or serve the city's blueprints for development, in an effort to avoid redundant construction and waste of resources," Sun said.

More than 14,000 athletes, trainers and coaches from 45 countries and regions are expected to compete in 42 sports during the event, which is themed "Thrilling Games, Harmonious Asia." In addition, it is expected to bring to the city 6,500 technical officials, 10,000 registered media workers and 2,000 members of the Olympic Council of Asia.

The 2010 Asian Para Games will debut shortly after the conclusion of the 16th Asian Games, using the facilities and venues made accessible for the disabled.

Fairly representative

The 16th Asian Games feature 42 sports, including 28 Olympic sports and 14 non-Olympic sports that are popular in Southeast Asian countries.

"The inclusion of non-Olympic sports distinguishes the Asian Games from other multi-sport events," said Li Xiaofeng, Deputy Director of GAGOC's Competition Department. "We hope to make the event a festival for all Asian people and promote a coordinated development of competitive sports and mass sports by adding more non-Olympic sports to the event."

Of the 14 non-Olympic sports, six are newly added for the event, including wei qi (the game of Go), Chinese chess, cricket, sports dancing, dragon boat racing and roller skating.

While sepak takraw is the national sport of Thailand, cricket ranks No.1 sport in India. Even kabaddi, a mass sport originating from India and Pakistan, is included.

"These non-Olympic sports value body dexterity rather than competitiveness, and therefore suit Asian people of all ages," Li said.