PERSISTENT PURSUIT: Wu Guanzhong sketches in front of the Buckingham Palace when a solo exhibition for the artist was held in Britain92 (XINHUA)
Wu Guanzhong, a master of Chinese painting of the 20th century, died in Beijing on June 25, 2010, aged 91.
Wu holds a special position in 20th century Chinese art, not only for his achievement in combining perfectly Chinese and Western styles, but also for his dedication to his form and generosity to the public. Although there was no grand mourning—according to the artist's own wishes—people expressed their sorrow by holding exhibitions of Wu's works, most generously donated by the master to public museums.
On July 1, paying tribute to the late artist, the Hong Kong Museum of Art launched an exhibition of the latest donation of Wu's five ink paintings. These works will also be included in an exhibition at the museum featuring a total of 52 precious works donated by Wu to the museum over the years. The exhibition will last from July 23 to August 29.
On July 7, a special exhibition was unveiled at the National Art Museum of China (NAMOC) to commemorate the contemporary art master. The exhibition, which will last until August 2, displays 62 of Wu's works, 46 of which were donations from the painter.
The largest retrospective show of Wu's works, which has been in preparation for months, will be staged at the Zhejiang Art Museum in November this year. It will feature at least 300 works on loan from several public museums.
A life in art
Wu was born on July 5, 1919, in Yixing, Jiangsu Province. At the age of 17, he enrolled at the National Arts Academy of Hangzhou in Zhejiang Province, studying both Chinese and Western painting under the guidance of painting masters Pan Tianshou (1897-1971) and Lin Fengmian (1900-1991).
In 1947, Wu traveled to Paris to further study art on a government scholarship, where he was greatly impressed by works of many Western painters, especially Vincent van Gogh.
Unlike some of his Chinese classmates, Wu returned to China to teach art at several universities and art schools, including the Central Academy of Fine Arts in Beijing, the Architectural Department of Tsinghua University and the Central Academy of Arts and Design, which is today's School of Arts and Design of Tsinghua University.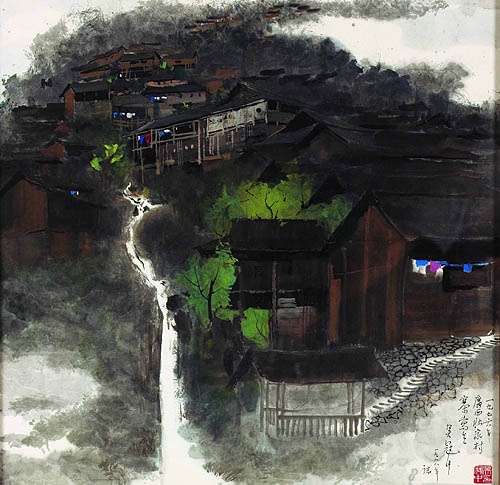 Village of the Zhuang Ethnic Group by Wu Guanzhong 
His creation, teaching and research focused on the integration of Chinese and Western styles. "I love both traditional Chinese art and the bold expression of Western oil painting. I was inspired by both during my art career," Wu once said.
In his opinion, the essence of art is the expression of human emotions. People speaking different languages can have the same feelings toward warmth and cold. "Chinese ink and wash and Western oil painting are just techniques which should be sublimated to the expression of emotions."
Wu's most precious quality lies in his lifelong exploration of artistic innovation in integrating Western painting skills and traditional Chinese art and culture, said Fan Di'an, Director of the NAMOC. "With a profound understanding of Western art, Wu also attached importance to traditional Chinese art and culture. This is especially hard to achieve for contemporary artists."
Wu's representative paintings include The Three Gorges, Hometown of Lu Xun, Spring Snow and The Great Wall, all simple subjects but displaying valuable artistic merit.
Wu tried to uncover the essential beauty in Chinese painting and present it to people other than Chinese or Asians in a way they could understand. "I want to use Western artistic methods to sum up, enrich and push forward Chinese painting traditions," said Wu, "of course, I also want useful elements in Chinese art to remain fundamental in my painting."
Wu was always ready to challenge conventional ideas and is respected by many for his constant search for artistic expressions best suiting his inner feelings, said Li Zhengming, one of Wu's students.
Wu's creative style evolved throughout his life and went through four stages.
In the 1970s, his works featured complicated compositions, meticulous details and strong colors. In the 1980s they became abstract, lightly inked and simple.