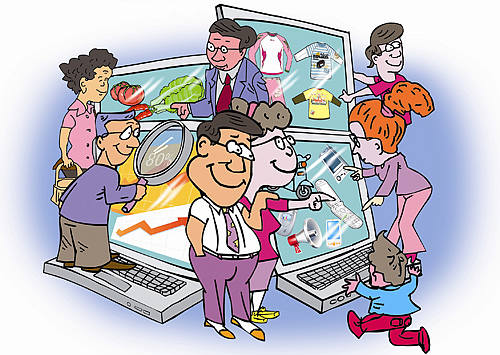 (LI SHIGONG)
The rapidly growing Internet has not only changed ways of collecting and using information, but also exerted a far-reaching influence on social relations and structure. As a result, Internet surfers have been brought closer than ever to contemporary politics, economy and culture. The China Internet Network Information Center (CNNIC) figures up to the end of 2009 the number of Chinese netizens had reached 400 million, accounting for 28.9 percent of the country's population. Though not as large a proportion as in developed countries, the figure is roughly the average world level. A recent survey conducted by Beijing-based Guangming Daily sheds light on the composition of Chinese Internet users.
Surfers
First, there has been a marked increase in female surfers. The China Statistical Yearbook 2009 shows, by the end of 2008, the sex ratio of the country's total population was about 51.5 (male) to 48.5 (female), almost the same with the previous year. But, CNNIC's statistics show that the gender ratio of netizens at the same period was 52.5 to 47.5—a notable change in comparison with the ratio of 57.2 to 42.8 in 2007. The Guangming Daily survey shows the ratio was 54 to 46, basically tallying with the CNNIC figure, indicating gender proportions in the netizen population are becoming consistent with that of the total population.
Second, young people in the age-bracket 20-29 constitute the main body of Internet surfer population, accounting for 33.4 percent. Next are the 30-39 and below 19 age brackets, 21.9 and 20.7 percent respectively. Frequent Internet users above 50 only amount to 4.9 percent. In sharp contrast to the overall age distribution of the country's population noted in the China Statistical Yearbook 2009, the netizen population is characterized by a very large youth group. The active participation of the 20-29 age group has added to the flourishing of the Internet. It could be a trend that, as these young people gradually grow into backbones in all walks of life, the purpose they use the Internet would possibly shift from enjoying entertainment services to getting and processing information.
Third, China's netizen population is composed mainly of people of a higher educational level, CNNIC says. The survey shows netizens having received a university or a junior college education account for 44.3 and 26.5 percent of the total respectively, while those with an educational level of junior high school or below make up 2.7 percent.
The survey also shows office workers use the Internet most frequently. Chinese netizens primarily consist of white-collar workers (including managerial staff and common employees), 31.5 percent of the total. They are followed by technical professionals, teachers and doctors, 15.9 percent; military servicemen and civil servants from governmental organizations and public institutions, 6.4 percent; and people engaged in industrial and commercial services, 4.9 percent. In addition, school students form another important group of Web users, accounting for 24.2 percent.
Finally, the CNNIC statistics indicate in general Internet growth is directly proportional to economic development. Rate of Web use has reached 40 percent in the developed eastern region, while 21.5 percent in the under-developed western region. The survey also found the proportion of netizens is much higher in cities than in rural areas. It is 30.38 percent on average in the four big cities of Beijing, Shanghai, Guangzhou and Shenzhen, but is only 7.72 and 4.74 percent in small townships and villages respectively. Sluggish Internet growth in vast rural areas has further intensified regional imbalance and widened the gap between cities and countryside in terms of economic and cultural development.
Impact
As a convenient and effective medium, nowadays the Internet is affecting every aspect of people's daily lives. As early as 2006, an Ipsos-Insight survey showed on average Chinese netizens were online 17.9 hours every week, ranking first in the world. Next to them were Japanese and U.S. netizens, at 13.9 and 11.4 hours respectively. The Guangming Daily survey shows 68.8 percent of Chinese netizens are online for three or more hours a day, 23 percent of them for one to three hours, and only 8.2 percent for less than an hour.
Further, the survey shows nearly 20 percent of netizens spend eight or more hours online every day studying or working. This is especially the case among white-collar workers, technical professionals and university students. By contrast, netizens living in the rural areas go online mainly as a form of recreation.