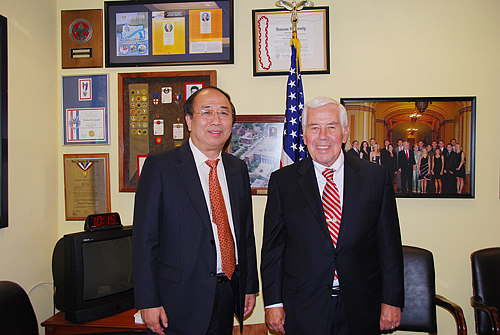 EXCHANGING VIEWS: Zhao Qizheng (left), head of the CPPCC National Committee's Foreign Affairs Committee, meets with Richard Lugar, U.S. senator from Indiana (ZHOU XIAOYE)
Zhao Qizheng, former Minister of China's State Council Information Office (SCIO) and current spokesman for the National Committee of the Chinese People's Political Consultative Conference (CPPCC), led a delegation to the United States in early June to exchange ideas on public diplomacy.
With members of the CPPCC National Committee's Foreign Affairs Committee, which Zhao also chairs, the delegation visited organizations and universities engaged in studying and researching public diplomacy, such as the National Committee on Sino-U.S. Relations, Harvard University and the Meridian International Center.
The main purpose of the 10-day trip, Zhao said, was to learn as much as possible from the United States' experience in studying and improving public diplomacy.
Public diplomacy, Zhao said, is any form of communication or exchange between one country and the general public of another country that is not officially carried out between governments.
The voices of the average Chinese person will act as a firm catalyst for introducing China in a more "sufficient, vivid and effective" way than simply providing information through official government channels, Zhao said to Beijing Review.
Opportunities for Chinese people to talk with foreigners are abundant now, Zhao said, adding that each year about 12 million Chinese travel abroad while around 24 million foreigners visit China. By interacting with Chinese people and seeing China firsthand, foreigners get to see a more diversified country from different perspectives.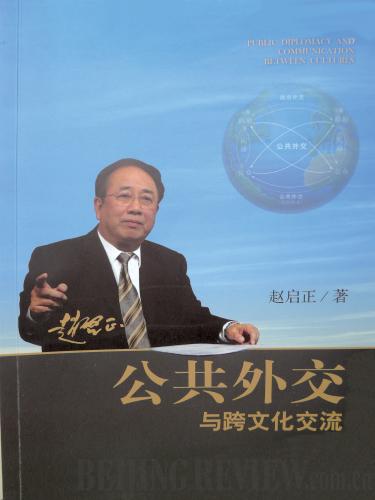 The cover of Public Diplomacy and Cross-cultural Communication by Zhao Qizheng (CHEN WEN)
Public diplomacy, while a new concept in China, has been practiced abroad, particularly by the United States, since the 1960s. The term was first used in 1965 by Edmund Gullion, an American diplomat at the foundation of the Edward R. Murrow Center at Tufts University's Fletcher School of Law and Diplomacy.
Earlier this year, former U.S. Senate Foreign Relations Committee Chairman Richard Lugar released a report called Another U.S. Deficit—China and America—Public Diplomacy in the Age of the Internet. The report says "China has a vigorous public diplomacy program" and "we [the United States] are being overtaken in this area of foreign policy by China."
The report's evidence includes the imbalance of cultural centers: China has 70 Confucius Institutes in the United States while America only has five similar cultural centers in China.
After careful analysis, Zhao said the Lugar report aims to persuade the U.S. Congress to increase its annual budget on public diplomacy. But any increase may not be necessary—already China lags far behind the United States in terms of public involvement and government spending in public diplomacy.
"The United States, among all countries in the world, has paid the most attention to public diplomacy and, for now, China is trying to catch up," Zhao said at a private meeting with Lugar during his visit to the United States, according to a China Daily report.
Based on his own rich experiences, Zhao, who is also dean of the School of Journalism and Communications, Renmin University of China in Beijing, wrote Public Diplomacy and Cross-cultural Communication, which explains how China can have more open and successful communication with foreigners.
Published in March, the book contains theories and case studies, which include a selection of speeches and dialogues with foreigners that Zhao had conducted since 1998 when he became head of the SCIO.
Zhao is a public relations veteran with years of experience interacting with foreigners. As vice mayor of Shanghai in charge of foreign affairs in the 1980s, Zhao received and accommodated delegations of foreign leaders. He also dealt with international financial tycoons while directing the development of Shanghai's Pudong District. He presented China to the outside world by establishing the spokesperson system of government departments while serving as SCIO minister from 1998 to 2005. He has also been actively engaged in public diplomacy by giving speeches and communicating with foreigners since taking on the CPPCC posts.
(Reporting from New York)