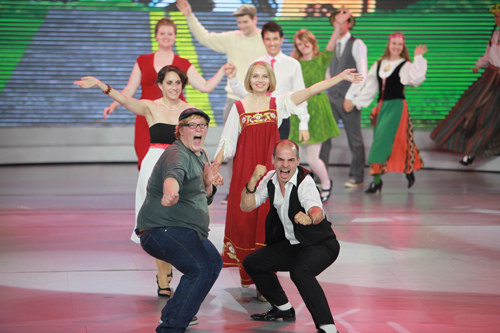 CROSSING THE BRIDGE: College students from around the world are introduced at the opening ceremony for the 10th Chinese Bridge competition, held in Changsha, Hunan Province, on July 16. This year 118 foreign students participated in the competition (SHI BOSEN)
Wearing a white cowboy hat, a checkered shirt tucked in around his blue denim jeans and scuff-less burnished tan boots, Grant Gilreath, an American college student from Tennessee studying at UCLA, is the quintessential image of an American cowboy. He even has a small American flag hanging from his left shirt pocket.
Gilreath flashes a big southern smile and begins chatting with a few people around him. His accent isn't a typical southern drawl. Actually, his words aren't even in English—he's speaking Chinese, and fluently at that. Gilreath is a long way from the ranch, but he's not trying to show off his cool country attire, he's in Changsha, capital of central China's Hunan Province, to compete in the 10th Chinese Bridge competition.
Gilreath isn't alone. Around this seemingly lost cowboy is a bustling menagerie of 118 foreign students from 68 countries wearing the traditional garbs—from German lederhosen and African dashinki to Japanese kimonos and Korean hanboks—of their respective homelands. No two students are dressed alike, but most are jabbering away in Mandarin. And they're all ready to compete.
Chinese Bridge, called Hanyu Qiao in Chinese, is a popular televised contest that tests foreign college students' aptitude of the Chinese language. Over the course for the 20-day competition, which kicked off July 16 in Changsha in front of a live audience, the students will make speeches, sing songs and perform skits, all in the tongue of the Middle Kingdom.
"Right now, China is definitely rising politically and economically. They want to assert themselves and make friends around the world," Gilreath said. "Hanyu Qiao is a chance for the Chinese to get more people to understand them and speak their language."
The competition is more than just an elaborate verbal exam and entertainment show. It's a forum for sharing ideas between China and the rest of the world, one of the country's oft-repeated goals as it expands its influence regionally and internationally.
"We talk about cultural bridges. [These students] want to be a bridge between cultures, between societies," said Galal Walker, a Chinese language pedagogy professor from Ohio State University in the United States and an honorary guest at the Chinese Bridge opening event.
Anna Kazban, a Ukrainian student studying at Kiev National University, said the "bridge" in Chinese Bridge is about building friendships and trust. "It's a way of connecting people from all over the world with China," she said.
China in the spotlight
Organized by Hanban, China's Office of Chinese Language Council International affiliated with the Ministry of Education, Chinese Bridge aims to "arouse the enthusiasm of foreign students to study Chinese and learn about Chinese culture," according to the language council. Hanban hopes the competition will allow contestants to enjoy the depth of Chinese culture that will allow genuine bonds between the students and China to form.
According to Hanban, the competition has become the "'Olympics of the Chinese language' and a bridge of friendship for young Chinese language fans worldwide."
Since its inception in 2002, more than 100,000 students from 70 countries have participated in the competition's preliminary rounds, held in each contestant's respective country. Around 800 competitors have made the cut and traveled to China for a whirlwind tour of the country before the Chinese Bridge finals.