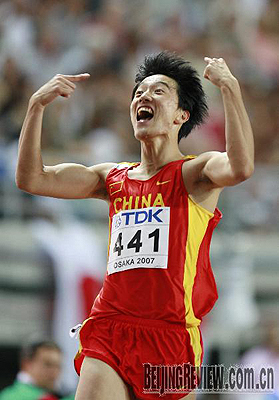 Chinese fans of superstar hurdler Liu Xiang will have to stay up until the early hours of the morning to see him compete in the finals of the 2008 World Indoor Championships in Athletics in Valencia, Spain on March 9.
The event will kick off on March 7 and Liu is set to compete in the men's 60-meter hurdles two days later. It will be his first competition in 2008.
"My coach doesn't want my best competition state to come too early before the 2008 Beijing Olympic Games," said Liu. He added the competition will, in reality, serve only as a test for his winter training.
Taking gold
Liu became the first Asian in history to win the men's 110-meter hurdles at the Olympic Games in Athens on August 27, 2004, where he clocked a world record-equaling time of 12.91 seconds for the gold.
Two years later at the IAAF Super Grand Prix athletics meeting in Lausanne, Liu set a world record of 12.88 seconds in the men's 110-meter hurdles, erasing 0.03 seconds off the previous record he shared with Britain's Colin Jackson.
Liu didn't stop there. He ran 12.95 seconds and won the 110-meter hurdles at the 2007 World Athletics Championship in Osaka, Japan, to become the first Chinese man ever to win a gold medal in that event.
It was a hard-won gold medal as Liu was placed in the ninth track, the furthest outside track that is hated by all athletes. Liu joked after the victory, "It seems that it doesn't matter to me which track I'm in. I think I can run a good result at the Beijing Games as long as they don't put me running on the grass."
Liu has competed in the "triple jump" at the World Athletics Championship series over the past five years. In 2003, he won a bronze medal; in 2005, he won silver medal; and in 2007, he won the gold.
"He's cool!" Liu's idol Allen Johnson, who used to be a master in the men's 110-meter hurdles, said of Liu. Johnson has seen many athletes become over-confident with a little fame, but Liu has kept his feet on the ground. "He still remains humble," Johnson said. "Liu is a simple man, but very attentive."
This year, 24-year-old Liu was elected as member of the National Committee of the Chinese People's Political Consultative Conference, making him the youngest member of the committee.
Mother is a fan
When Liu's mother Ji Fenhua misses her son, she walks out of the residence community where she lives to an intersection where stands a huge billboard with her son's smiling face on it. "Now there are more and more billboards being put up and I just can't find time to see all of them," she said. Ji used to work at a state-owned food shop, but has since been laid off and become a loyal fan of her talented son.
Liu's future marriage prospects are a top concern of his caring mother. "As a mother, of course I want him to have his own family as soon as possible," said Ji. Though he may be the perfect man for many girls, Liu has always joked that finding a girlfriend is harder than competing in the hurdles. Thoughts of marriage may be some way off for Liu who has said he is likely to compete in the 2012 London Olympic Games.
"Of course I will not intervene in his private affairs. He now is the son of his country," said Liu's mother. Having little time to see Liu, she has become a devoted cook who is eager to make a dinner for her son. "Even watching him eating is a great enjoyment," Ji said.
Ji was initially against her son being an athlete. "Every time I saw him having a rough time exercising I wanted him to quit," Ji said.
The coach
Liu's mother jokes that there is one particular person who often falls victim to her temper. That unfortunate man is Sun Haiping, Liu's coach, who has brought Liu where he is today. Liu has probably spent more time with his coach than with his parents.
For many years Sun treated Liu as his own son. Every morning Sun got up early and arranged everything for Liu.
"A decade ago when I was still a thin and weak student in the sports school, I was considered just an average kid without any great expectation, but my coach felt something great in me," Liu recalled.
In Liu's eyes, Sun was a good-tempered coach. "But he is a man who sticks to his principles. When he finds me being lazy in my exercises he doesn't scold me but insists that I finish all of the training."
Sun used to be a hurdler himself and advocates a reasonable and scientific training. Sun tried all he could to develop Liu's potential during the last winter training session before the Beijing Games.
As for the Beijing Olympic Games coming soon, Liu said he feels no pressure at all. "After all I've been through many big games. Instead of being a daydreamer, I've learnt to make steady preparations and I'm confident I can fight against any unfavorable factors during the competition," Liu said.