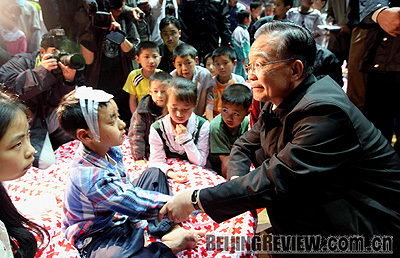 Premier Wen Jiabao comforts an injured boy at a stadium in Mianyang, Sichuan Province, on May 13
Premier Wen Jiabao moved China once again with his resolute yet emotional response to calamity. Visiting one of the many earthquake-devastated schools in Dujiangyan City in southwest China's Sichuan Province on May 13, Wen trudged through mud and concrete debris in rain showers. The premier wept when he reached rescuers trying to get two children out of the school's ruins.
"I'm Grandpa Wen Jiabao," he yelled to trapped children through a crevice. "You will certainly pull through and be rescued."
About two hours after the 7.8-magnitude earthquake jolted Wenchuan County in northwestern Sichuan, Wen was en route to the region by plane. Within about 48 hours, he had visited almost all the worst hit cities and towns including Dujiangyan, Deyang, Mianzhu, Mianyang, Beichuan and Wenchuan.
As he directs relief efforts in Sichuan, Wen, 66, wins love, trust and respect from the Chinese people as well as foreigners. His words and acts have motivated the entire nation to address the aftermath of the deadly disaster.
Touching moments
People were touched when they saw their premier on TV caressing the cheek of a sobbing girl. "Don't cry," he murmured to her. "Food will be sent in a short time. Biscuits and milk powder will be sent too."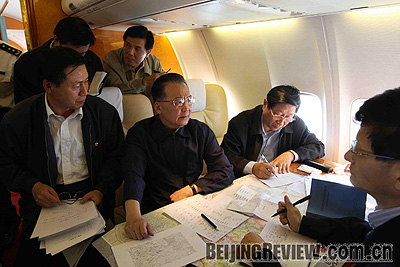 OFFICE IN THE AIR: Premier Wen Jiabao holds a meeting to discuss disaster relief plans on his flight to quake-hit areas on May 12
"If only there is the slightest hope, we will spare no effort; if only there is one survivor in the debris, we will not give up," he said by the ruins of a school building that buried more than 100 students. He bowed three times to the bodies of victims temporarily placed on the schoolyard.
"Your pain is our pain," he told victims of Beichuan County. "We are here to help you."
The Central Government had been deeply concerned about this place, said Wen addressing the injured waiting to be airlifted to hospitals in Yingxiu Town, Wenchuan County, after landing by helicopter.
He visited the town at the epicenter of the earthquake, where 70 percent-80 percent of the buildings were toppled, one day after the first batch of soldiers made their way there. He promised to try every method to rescue the injured.
The Chinese leadership is a respectable leadership, said Muhammad Iftikhar Raja, Counselor for Press and Culture at the Pakistani Embassy in Beijing. They are close to the hearts and minds of the people. At the time of tragedy, they showed love for humanity and for the Chinese people and did a great job, he said.
Rapid response
Premier Wen Jiabao set off for disaster-hit areas immediately after the earthquake on the afternoon of May 12. Within a few hours, he had pulled together a relief taskforce headed by himself on his plane to Chengdu, capital city of Sichuan Province.
"Confronted with the disaster, we need composure, confidence, courage and an effective command," he said on the plane. He pledged in front of the media cameras that the government would lead the people in winning the battle against the earthquake.
Wen made it clear that saving lives was the top priority, and pressed officials and troops hard to implement rescue plans.
At a meeting of the relief taskforce that Wen presided over in a tent in Dujiangyan, the first thing he ordered was to send rescuers into the isolated epicenter "by all means."
"The earlier, even a minute earlier, we reach the quake-hit areas, the more lives we are able to save," he said. He ordered that roads be cleared to the epicenter by midnight of May 13. The first group of 30 soldiers arrived at Yingxiu Town in the epicenter on foot that afternoon and rescued 300 people by midnight.
More soldiers, doctors, rescue experts, engineers and volunteers are gathering in Sichuan and tons of bottled water, milk, instant noodles and other relief materials are being trucked in and airdropped to the quake-stricken areas.
From the big issues of restoring traffic and deploying troops to tiny things like providing milk powder for infants, Wen addressed everything at relief work meetings.
Pan Guang, a research fellow at the Shanghai Academy of Social Sciences, hailed the government's fast response. Although it is unrealistic to save every victim immediately after the quake, China had started a nationwide campaign to fight the disaster, he told Xinhua News Agency.
On the bulletin board of CCTV's website, netizens drew parallels between Wen Jiabao and Zhou Enlai, China's first premier who was in office from 1949 to 1976. Shortly after a disastrous earthquake struck Xingtai, Hebei Province, in March 1966, Zhou descended on the disaster-ridden areas to comfort locals.
"With Premier Wen by our side, we can overcome any difficulty," wrote a netizen under a pseudonym that means "anti-earthquake campaign is bound to triumph." "At this critical juncture, he gives us encouragement and confidence. We love this good premier."
Wen Jiabao's Itinerary
14:28 May 12: A 7.8-magnitude earthquake hit Wenchuan County in Sichuan Province. Wen immediately set off for quake-hit areas.
16:40 May 12: Wen chaired a meeting of his disaster relief taskforce on the plane to Sichuan.
19:10 May 12: Wen arrived at Chengdu, capital city of Sichuan Province. He soon headed for the epicenter in Wenchuan. Because the roads were blocked, Wen and the taskforce started to work in a tent in Dujiangyan, 50 km from Wenchuan.
22:00 May 12: Wen visited the Traditional Chinese Medicine Hospital and Juyuan Middle School in Dujiangyan, where he promised to work with the local people on disaster relief.
Morning May 13: Wen toured Dujiangyan's streets to comfort locals, visited Xinjian Primary School in Dujiangyan and met relief workers in Deyang.
Noon May 13: After holding a meeting of the disaster relief taskforce in Deyang, Wen went to Mianzhu to visit victims.
16:00 May 13: Wen visited Mianyang residents temporarily sheltered in the city's stadium. He encouraged orphans to face up to the disaster with courage.
Morning May 14: Wen visited Beichuan, stressing that saving lives should be put at the top of the agenda.
Afternoon May 14: Wen visited Yingxiu Town in Wenchuan County, the epicenter of the earthquake.
Evening May 14: Wen emphasized the need of air transportation at a meeting he chairs on the train bound to Guangyuan.
(Source: Xinhua News Agency)