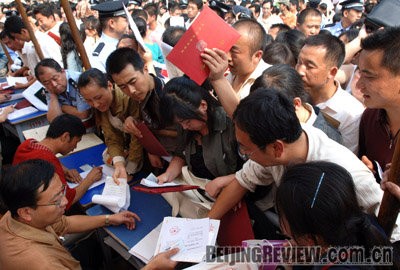 PROSPECTS: Residents of Gansu Province in northwest China register for the civil servant recruitment exam on September 1, 2007. At the registration desks in Qilihe Stadium, Lanzhou City, the provincial capital, 20,000 people registered for or inquired about the exam
China, a country with 8 million civil servants, did not have an exclusive agency managing them until the establishment of the State Administration of Civil Service (SACS) on July 22. The new agency was born during the latest government reshuffle and has attracted lots of attention since its inception.
Yin Weimin, head of SACS and Minister of Human Resources and Social Security, said it was established to ensure that the civil servants are highly qualified and professional.
SACS is a vice-ministerial-level organization under the management of the Ministry of Human Resources and Social Security, according to Yang Shiqiu, Deputy Director of SACS. Yang said that SACS consists of five departments covering management, recruitment, assessment, training, rewards, supervision and other aspects related to civil service affairs. All 60 members of SACS' staff are from the former Ministry of Personnel and Ministry of Labor and Social Security.
At the founding meeting of SACS, Yin said that it would focus on implementing the Civil Servant Law, improving the personnel recruitment system, strengthening work ethics and capacity building, and standardizing the administrative reward system.
Currently, China has a tight job market. As the social status and pay of civil servants increase, the annual exam to recruit civil servants has become the most competitive exam in China. Statistics in recent years show that each year, about 1 million people register for the exam, competing for about 10,000 positions.
China's civil servant system was born on October 1, 1993, when the Temporary Regulation of Civil Servants was officially published. The system was gradually implemented from top down across the whole country. Civil servants used to be called cadres. After the birth of the civil servant system, the general public came to know the concept of a civil servant.
A series of measures have been adopted since 1994, including recruitment through open examinations and the establishment of an effective long-term incentive system and a competitive employment system.
"The Temporary Regulation of Civil Servants published in 1993 and the Civil Servant Law in 2005 are two major watersheds in the construction of China's civil servant system," said Liu Junsheng, a professor at the School of Politics and Public Administration at China University of Political Science and Law. According to the Civil Servant Law, China's civil servant system not only covers staff in state administrative organs, but also in other units performing state administrative functions, such as the National People's Congress and the Chinese People's Political Consultative Conferences, as well as the management bodies of minority parties.
The law, which went into effect on January 1, 2006, classifies civil servants into categories like comprehensive management, technical, and administrative. "Civil servants range from the President and Premier to ordinary clerks," said Song Shiming, a professor with China National School of Administration. Song is one of the drafters of the Civil Servant Law.
The biggest difference between the former Ministry of Personnel and the newly established SACS is that the former managed three teams of "cadres," including civil servants, cadres in public institutions and executives in state-owned enterprises, whereas SACS only manages civil servants. "By concentrating on civil servants, the management will be more specialized," said Liu. His view is shared by a number of professors in the field of public administration, including Sun Baiying at Renmin University of China.
Some experts believe that SACS has a few hard nuts to crack, as it has not covered all aspects of civil servant management. For instance, it does not administer the salary of civil servants, which is yet to be explored and addressed.
"The establishment of SACS marks a new start in civil servant management," said Yin. In the new stage, the principles of open and fair competition will be followed and civil servants can be promoted or demoted, hired or fired according to their merits. China's civil servant system is expected to be healthier, he said.