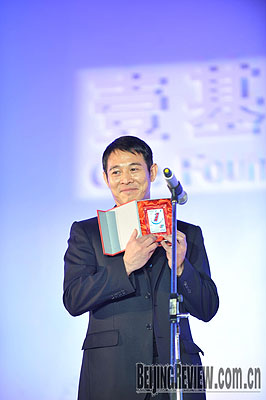 SUSTAINABLE DONATION: Li Lianjie at the China Global Philanthropy Forum in Beijing, on November 1 (COURTESY OF ONE FOUNDATION)  
Martial art star Li Lianjie, better known as Jet Li, is renowned for his startling fighting skills and action movies. In recent years, however, he's also gained a reputation for his words off screen.
Li is talking to everyone about his new venture-One Foundation and filmmaking has been put in the back seat while charity and social activities have become his primary job. Even people talking to him about filmmaking often find the conversation diverted toward philanthropy nowadays.
Rob Minkoff, Director of the Forbidden Kingdom, was not spared. At a meeting with Li to discuss the plot of the movie, Minkoff was handed an application form and asked to be a volunteer for One Foundation.
Li founded One Foundation under a strategic partnership with the Red Cross Society of China. The foundation operates independently to pursue its charitable mission and agenda, focusing mainly on the environment, education, poverty alleviation, health and disaster relief.
It is called One Foundation because of its formula of "1 person + 1 dollar/yuan ($0.15) + 1 month = 1 big family." The belief of the foundation is that if each person donates at least one dollar/yuan each month, the donation pooled together will be of significant humanitarian help to victims of disaster or other unexpected events.
Shortly after the Forbidden Kingdom, which Li starred in, was shown worldwide, the May 12 Sichuan Earthquake struck and Li announced that he would abstain from the film industry for one year so that he would devote himself to the charity work of One Foundation.
Through the foundation Li aims to communicate the notion that "we are all human, so we are all one family; Regardless of the language we speak and the lifestyle we lead, we face similar problems, and every individual has the responsibility to safeguard the family."
Sudden enlightenment
Li confessed to the media that he once was a very proud person, lived in his own world, and did not like to ask others for help. Later he realized that human beings need each other's help and care to survive.
Now, Li calls himself the biggest beggar in the world, asking the world's 6.7 billion people to set free the kindness, responsibility and love buried in their hearts.
Li's enlightenment came after the tsunami hit Asia on December 26, 2004. Li and his family had just arrived in the Maldives for a vacation. "When we walked to the beach, we saw waves coming. I thought it was the rising tide. The waves knocked down visitors sunbathing on the chairs. People were laughing at the practical joke of nature," Li recalled. "But soon I felt the danger when water came up to my chin. The waves washed the nanny and the children away, so I yelled 'Help!' Several people rushed over and dragged the nanny and the children ashore. I was still struggling in the water, which luckily stopped rising when it came under my nose."
The close encounter with death shocked Li. He realized the fragility of life; people, strong or weak, rich or poor can be so powerless in face of disaster. Li, who is a Buddhist, felt that one's fate was capricious, and could not be controlled, not even by money or fame.
After the tsunami, Li was unable to get in touch with the outside world for two days and two nights. Later he learned that, during that period, many people, familiar and unfamiliar had asked after him. He was grateful to them, and would like to do something in return. The tsunami prompted Li and his wife to set up the non-profit One Foundation to help people in need.
Sustainable charity
"Charity is not a flash in the pan for Li. He wants to run the charity with a rational business plan and a sustainable model," Lei Xiaoyu, reporter for China Entrepreneur magazine remarked.
To find a good model, Li has visited many countries and regions to study their charity programs. He looked at their fund-raising methods, financial reporting practices, legal compliance, marketing strategies, cooperation with the government, and other operational aspects.