International literary masters Kenzaburo Oe of Japan, Russell Celyn Jones of Britain and Alex Miller of Australia came to Beijing in January to receive their trophies for the 2008 Weishanhu Award for Best Foreign Novel in the 21st century.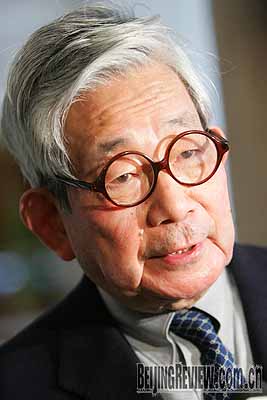 Japanese author Kenzaburo Oe (CFP)

Nobel Literature Prize winner Kenzaburo Oe became the first Japanese writer to win this Chinese literature award, which is organized by the People's Literature Publishing House (PLPH) and first started in 2002.

Kenzaburo Oe and the two other winners were selected from eight candidates from the United States, France, Ireland, Germany, Spain, Britain, Australia and Japan, based on their profound social, historical and cultural connotations and unique aesthetic pursuits. The winners' books will be translated and published in China.

Kenzaburo Oe's award-winning new work, The Beautiful Annabel Lee was Chilled and Killed, tells the story of the rise and fall of a Japanese film star who was raped by American soldiers as a child.

Ten Seconds From the Sun, by Russell Celyn Jones, centers on Ray Greenland, a Thames River pilot who has a secret identity and a past he wants to keep hidden.

Alex Miller's novel Landscape of Farewell is a study of the best and worst of human nature--and how two men from seemingly disparate cultures help each other unlock the secrets of their family histories.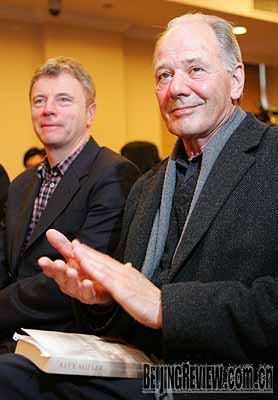 Russell Celyn Jones of Britain (left) and Alex Miller of Australia at the award ceremony on January 16 (CFP)

At the award ceremony on January 16, Kenzaburo Oe, whose works have been translated into English, German and French, said he was "glad and honored" to have his book translated into Chinese.

He has won many awards from other countries, but he only appeared in person to accept two awards: the Nobel Prize in Literature and this Chinese award. "China has translated my works the most over the past five years," he said. "I hope more Asian people can read them."

The Japanese author said that it is beneficial to win foreign awards. "It's just like giving me a recommendation letter, which enables me to communicate with numerous novelists from other countries," he said.

Kenzaburo Oe has maintained friendships with Chinese writers. He said Chinese writer Mo Yan was one of his old friends and he had spent two years reading Mo's works. He added that renowned Chinese writer Tie Ning, who chairs the Writers Association of China, is also a respected Chinese writer. "Tie sat right beside me at the ceremony, and I just couldn't help talking to her," he said.

"I hope the Chinese translation of my novel can keep the original taste and flavor," said Celyn Jones, who contended that a good story will remain a good story no matter what language it is translated into. "Ten Seconds From the Sun has a serious theme, but it is interesting to read," he said.

Landscape of Farewell is Alex Miller's third novel published in China. Miller said he was touched by the enthusiasm for his books when he visited China.

The literature award was established to introduce new and high-quality foreign contemporary literature to Chinese readers and to foster cultural exchange, according to PLPH.

Award organizers tend to choose works from countries that Chinese readers are relatively familiar with, but pay attention to literature from other countries as well.

A campaign to promote the award says it might predict future Nobel Prize winners, as 2008 Nobel laureate Jean-Marie Gustave Le Clézio won the Chinese literature award in 2006 for his book Ourania.

So far the prize has been awarded to 45 foreign literary works from 17 countries.

The Eight Candidates for the 2008 Award

Alex Miller (Australia) Landscape of Farewell

Russell Celyn Jones (Britain) Ten Seconds From the Sun

Kenzaburo Oe (Japan) The Beautiful Annabel Lee was Chilled and Killed

Luis Leante (Spain) Mira si yo te querre

Pierre-Jean Rémy (France) Le plus grand peintre vivant est mort

Julia Franck (Germany) Die Mittagsfrau

Karen Ardiff (Ireland) The Secret of My Face

Joshua Ferris (United States) Then We Came to the End