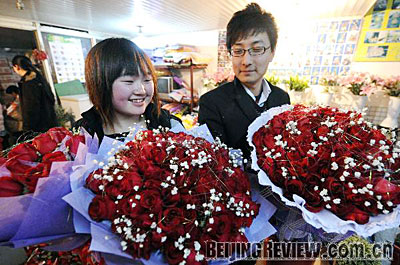 Across the Miles
By YUAN YUAN
After Gu Lidan, a woman from Xinjiang Uygur Autonomous Region, met and fell in love with Bill Moore, an American engineer, 30-year-old Gu said she would never again be surprised by anything in her life.
They met in the summer of 2000, when Gu was a college student and was planning to go to Germany for graduate studies. Moore came to Beijing with a friend, who was trying to find a Chinese girl he met on the Internet. But Moore's friend knew neither this Internet acquaintance's exact name nor her address. "Besides, neither of them could speak Chinese, and it was their first time coming to China, so that was just crazy," said Gu.
On the day Gu met Moore, she was buying books in a language training school's bookstore when he and his friend walked in and shouted, "Who can speak English?"
They only knew the Internet friend's school was near the Fragrant Hills, so they called a taxi and stopped randomly at a school gate in the area. Asking the first student they met whether knowing the person they were looking for, they were surprised by the response. "I am," the student said.
"It was too good to be true," said Gu. Later, the four of them spent several days traveling around Beijing and became very good friends.
Modern technology has become the bridge that has spanned the distance, with e-mails and instant messaging software becoming their best friends. Vacation time has become more valuable to them. Moore attended Gu's graduation ceremony and also visited her hometown in Xinjiang.
Gu eventually gave up her dream of getting a graduate degree in Germany and instead went to America to join Moore. After marrying in 2002, Gu worked and lived in the United States for almost six years. At the beginning, she experienced hard days due to the new environment and culture shock. But eventually things got better and she made many new friends and built a life for herself in her new country.
But it turns out that fate does have a Germany plan for Gu. In 2006, Moore accepted a project in Hamburg. As a result, Gu was able to enroll in Purdue University's international graduate business program in Hanover, which is one hour away from Hamburg. The next year involved riding the train back and forth and sightseeing throughout Europe. Together they have attended Christmas Eve service in France's Saint Paul Castle, watched fireworks over Venice's Saint Mark's Square, and admired the architecture in Spain.
Now the couple resides in Shenzhen, China, where Moore is working for an American company and learning Chinese culture and language. Gu is also pursuing a career in marketing. Being married for seven years is certainly not a short time, but they still have a long road ahead of them to continue their love story.