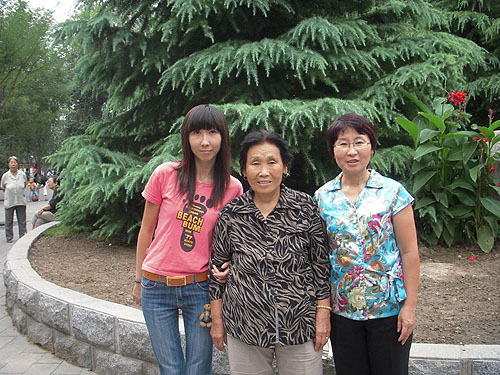 THREE GENERATIONS: Women representing three generations of a single family—Wang Lei (left), Li Shuyun (middle) and Cao Xiuhua (COURTESY OF CAO)
My mother, Li Shuyun, was born in Dong'e County, east China's Shandong Province, in 1933. She came to Beijing in 1953 when she married my father, Cao Chunsheng, and gave birth to three babies. I was the second. My mother became a factory worker in the 1950s. After she retired at age 50, she volunteered to work at the neighborhood committee and did so for 13 years. She also took care of my daughter.
The bitter past
My mother hated my father, who was 20 years older than her, so much that she called him nothing but a bad guy who was an alcoholic and a libertine.
Before he married my mother he lied about his age and marital history. He actually already had two daughters, the first one being older than my mother. It was not until after the marriage that my mother found out the truth but by then it was too late.
My mother gave birth to three girls. This made my father, who had already had two daughters, unhappy. He wanted a boy to carry on his family name. When my little sister was born, the doctor mistakenly said she was a boy. My father was so happy and named the baby "Tiger," but later went into a state of despair when he found out it was a mistake. He quit his job and left the family to go back to his hometown.
My father would sometimes come back to Beijing to quarrel with my mother and forced us to go back to his hometown. My mother was so strong that she did not succumb to the pressure and managed to stay in Beijing with us. After that my father seldom came to the city to visit us except during the Spring Festival, or the Chinese lunar New Year, when they still quarreled heavily. We children could do nothing but stand aside and tolerate it. Every Spring Festival started as a family reunion and ended unhappily.
It was not until my father died in the 1970s that my family became normal. I don't know if my father loved me or not. I remember that once he kicked me off the steps and my mother almost fought with him over it. My mother and father spent their lives fighting and they never loved each other. It's strange that they never thought of divorce. At that time, marriage was primarily about breeding the next generation.
My own plain marriage
I was born in 1957 and grew up during the "cultural revolution" (1966-76). Answering the call of Chairman Mao, who said the educated youth should go to work in rural areas, I became a farm worker in a Beijing suburb when I was 17.
In 1979, when these young people rushed back to their home cities, I came back to Beijing and went to work in various places. I worked as a civil servant and also conducted a business. In 2008, I retired ahead of schedule because I had to take care of my sick husband.
When I got to know my husband, he was a compositor at a printing house and I was already a member of the office cadre. At that time a perfect husband was supposed to be honest and from a working-class family. Our marriage was plain, practical and nothing about romance. We had a child not long after the wedding.
I was not a housewife. I took care of my work with great passion. I started a business when China began to introduce a market-oriented economy. Though it did not make us a fortune, it allowed me to sharpen myself in the world of business.
My husband and I differ quite a bit in character and temper—I'm outgoing and passionate while he is slow and passive. Over the years, we sometimes quarrel but we mostly live together in peace.
My husband has been suffering from a chronic disease and gradually became unable to look after himself. I've nursed him for eight years. But I also have lots of other things to do—housework, cooking, reading, surfing the Internet and studying calligraphy. I am trying to do what I like to make my life a happy and relaxing one.
The young couple
My daughter, Wang Lei, was born in 1983. She was married in 2008 to a man who was also born in the 1980s.
After the marriage, she learned to save money and now does not spend extravagantly as she once did. The 2008 financial crisis hurt her salary but the couple has managed to live a good life. My daughter said her marriage is based on love.
She learned to cook instead of going to restaurants and she knows well the prices of tomatoes and potatoes. The young people know how to arrange their life and put flavor into it. My son-in-law loves my daughter so much and takes care of her in every possible way.
Nowadays, men are much better than the ones in my time. They have less male chauvinism. I do envy their sweet marriage and life.