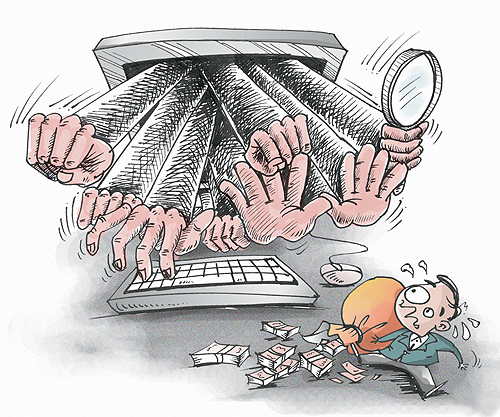 (CFP) 
No more mobile porn
The problem of cellphone pornography has been on the rise with more and more mobile phones that are equipped to surf the Internet coming into the market.
Online sites accessible only through mobile phones are becoming a popular new method for distributing porn, since the technology makes it harder for the government to shut them down.
There are now some 650 million cellphone users in China, of which 50 million are primary and middle-school students who have SIM cards that grant them access to the Internet. There are many kinds of anti-porn software available to filter illegal content from computers, but there are few similar options on mobile phones.
In November, China launched a nationwide campaign to crack down on cellphone porn by developing a more wholesome environment for the mobile devices.
China's Ministry of Industry and Information Technology (MIIT) says the key to curbing cellphone porn is to break the chain from the wireless application protocol (WAP) pornographic websites to telecom carriers, online advertising agencies and third-party payment providers. The ministry wants to develop cellphone filtering software that counters pornographic content rampantly spreading.
China Mobile, the country's largest wireless carrier, has blocked access to certain sites and stopped doing business with companies that have been exposed by media reports. China Telecom, another giant wireless operator, also pledged to work with the government to remove porn services.
Popular Internet catchphrases
A strange meme popped up and then multiplied around on the Internet in China in 2009. On July 12, a post with the title "Jia Junpeng, your mother is asking you to go back home to eat your meal" appeared on Baidu.com's portal for the online game World of Warcraft. The message became very popular and attracted more than 400,000 viewers and 17,000 replies within six hours.
A netizen then changed his screen name to "Jia Junpeng" and replied, "I'm Jia Junpeng. Would you please tell my mom that I won't go back home for my meal this evening?" Soon other netizens changed their screen names to "Jia's aunt," "Jia's teacher" or "Jia's friend" and created a massive family for Jia.
The sentence has now moved off the Internet and into real life. It has become popular with young people and has been transformed into several different versions such as, "Your teacher asked you to finish your homework," and "Your father asked you to go back home to go to bed."
Some experts are calling the phenomenon a reflection of popular culture, anti-intellectualism, herd mentality, decadence or plain immaturity.
Another popular sentence has also arisen from Baidu.com that may prove those experts right—"What I eat is not noodles, it is loneliness." The post spawned others that followed the same pattern—"What I am posting is not a post, but loneliness" and "What I am using is not a mobile phone, it is loneliness." Those who feel a special connection with these posts are being called members of the "loneliness tribe" or people of the "loneliness religion."
Watchdogs from Internet
Chinese citizens used the Internet as a tool to fight crime from being perpetrated by corrupt officials. On October 11, 2009, an official in Nanjing City in east China's Jiangsu Province was sentenced to 11 years in prison for taking bribes. The official, Zhou Jiugeng, former head of the Real Estate Management Bureau in Nanjing's Jiangning District, was in the public eye for a year before receiving his punishment.
Netizens posted a picture on the Internet in 2008 of Zhou smoking expensive cigarettes that cost about 150 yuan ($22) per pack. Since then, he has been called the "super-expensive-cigarette director" and has become a popular subject on the Internet. He was also found by netizens to be wearing a Vacheron Constantin watch, which costs at least 100,000 yuan ($14,632) in China, and to be driving a Cadillac to work.
Zhou was removed from his post on suspicion of embezzling public funds to live a luxurious life and was found to have taken bribes of more than 1 million yuan ($147,058).
Green Dam
An Internet filtering software called Green Dam Youth Escort caused heated debate over the course of 2009. Officials said its purpose is to block harmful information from the Internet to build a healthy and harmonious online environment and to keep young minds from being poisoned by harmful information.
MIIT said the software would be installed on all computers sold in China or would accompany new machines as a compact disc beginning on July 1, 2009.
Green Dam, developed by Henan Province's Jinhui Computer System Engineering Co. Ltd., became the subject of debate on the question of whether all computers should include the program and also on whether the government should spend 41.7 million yuan ($6.1 million) purchasing exclusive rights for a year to use the software.
Although many parents expressed their support for the program, a survey conducted by major Chinese news portal Sina.com, showed 83 percent of 26,232 respondents did not want it. Similar online polls conducted by other Chinese websites also revealed little interest in the software.
Another controversial topic emerged in debate about the program. Its developer claimed that Green Dam Youth Escort recognizes pornographic images by analyzing skin-colored regions of human faces, but is incapable of recognizing pictures of nudity in some darker ethnic groups. The yellow-colored cartoon cat Garfield, for example, ran afoul of the software. IT experts regarded these problems as ridiculous mistakes.
On June 11, the University of Michigan's Scott Wolchok, Randy Yao and J. Alex Halderman published an analysis of Green Dam Youth Escort. They located various security vulnerabilities that would allow "malicious sites to steal private data or send spam" and let "the software makers or others install malicious code during the update process."