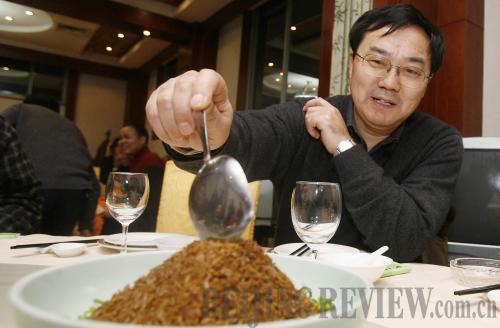 HAVE A TRY: Zhang Qifa, Director of the National Center of Plant Gene Research at Huazhong Agricultural University, tastes fried genetically modified rice on February 8, 2010 (CFP) 
China is expected to approve commercial planting of genetically modified (GM) rice in three to five years as a major effort to raise levels of the food supply.
Huang Dafang, Director of the Biotechnology Research Institute of the Chinese Academy of Agricultural Sciences, said China faces the shrinking of its farm land together with an increasing population and will turn to GM technology to ensure grain security.
On November 27, 2009, the Ministry of Agriculture (MOA) issued biosafety certificates for two strains of GM rice, Huahui 1 and Bt Shanyou 63, to the National Center of Plant Gene Research at Huazhong Agricultural University based in Wuhan City, central China's Hubei Province.
"The certificate is the last step before the strain goes to the market, but the strains need registration and production trials before commercial output can begin, which may take three to five years," Huang said.
A national strategy
Huang said the GM crops were of great significance for the sustainable development of agriculture and China's competitiveness in the global arena.
"We are technically advantaged in hybrid rice planting. And genetically modified technology could ensure China's superiority in food production," said Huang, who is also a member of the MOA's Biosafety Committee
China, a populous country of 1.3 billion people, has put food security high on its agenda for national development planning.
China's central authorities, the Central Committee of the Communist Party of China and the State Council, China's cabinet, issued the No.1 Document on January 31, 2010, to push forward the industrialization of GM crops on the basis of scientific appraisal and management in accordance with law.
"This again makes the industrialization of new GM products a national strategy," said Deng Xiuxin, President of Huazhong Agricultural University.
"GM products research has entered a new phase," he said.
Despite the rapid progress in agriculture in China, supply shortages has emerged with some products, as indicated by the peaks in imports of vegetable oil, said Chen Xiwen, Director of the Office of the Central Rural Work Leading Group, when talking about the importance and urgency of modernization of agriculture's productivity.
China's rice output is No.1 in the world, accounting for 33 percent of its total. The country produces approximately 500 million tons of rice annually. With a population expected to grow to 1.6 billion by 2020, 630 million tons of rice a year will be needed.
In July 2008, the State Council approved a mid- and long-term grain security plan that aims to increase grain output by 50 million tons between 2009 and 2020.
"Once GM technology is used for mass production, it would definitely help China achieve that target and feed its 1.3 billion people," Huang said.
"It will be of great political and economic significance," he said.
"The use of GM technology is an inevitable trend in the global agriculture industry, including China," he said, adding that it has been scientifically proven approved GM strains are as safe as non-GM varieties.
Currently, 10 percent of non-GM rice output is lost annually because of pests, but the loss could be avoided by the wide use of the technology, Huang said.
Both GM rice strains being trialed contain proteins from Bacillus thuringiensis bacteria that allow them to resist rice stem borer, the most serious rice pest in China.
Stem borers can affect 3.3 million hectares of China's rice fields, resulting in 5-percent loss in yields at a cost of 10 billion yuan ($1.47 billion) a year.
GM rice would help reduce the use of pesticides by 80 percent while raising yields by as much as 8 percent, said scientist Huang Jikun of the Chinese Academy of Sciences.