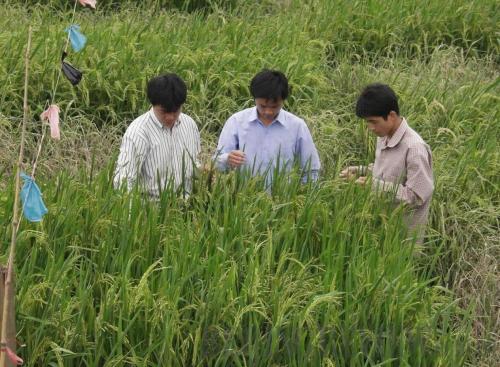 NEW RESEARCH: Technicians check genetically modified pest-resistant rice in the Experimental Base on Rice of the Fujian Academy of Agricultural Sciences (WU YILONG)
The approval of two types of genetically modified (GM) pest-resistant rice for widespread production in China has generated safety concerns among some experts.
On November 27, 2009, the Ministry of Agriculture issued biosafety certificates for GM rice strains Huahui 1 and Bt Shanyou 63, developed by Huazhong Agricultural University in Wuhan, Hubei Province.
"The issuing of biosafety certificates has complicated implications as it is the first time a major grain producer is endorsing the use of GM technology in a food staple," said Xue Dayuan, a professor of biotechnology with Minzu University of China based in Beijing.
Impact on health and environment
Fang Lifeng, spokesman of Greenpeace China's GM program, warns possible long-term risks of GM rice should be taken into consideration.
Fang said GM rice may potentially cause serious public health and environmental problems.
"Once the GM rice gets into the food chain on a large scale, it will have a very big impact on food safety, environmental safety and biological diversity," he said.
GM organisms contain genetic material that has been altered in a way that does not occur naturally. Genetic modification allows selected individual genes to be transferred from one organism to another, and also between non-related species, to create advantages, said Fang. Such methods are used to create genetically modified plants, which are then used to grow modified food crops.
Two major issues concerning the engineering of rice are a tendency to provoke allergic reactions and the uncertainty of gene transfers.
Fang outlined examples of the long-term risks of GM food since it first appeared on the market in 1994.
In 2008, the immune systems of laboratory mice that consumed GM corn were found to be abnormal.
These substances have never before been an integral part of human or animal diet and therefore their health consequences for consumers, especially over the long term, are currently unknown, according to an article published in the International Journal of Biological Sciences.
"If the substance is killing pests, will it hurt us if we eat it every day?" asked Jiang Gaoming, a professor with the Institute of Botany of the Chinese Academy of Sciences.
"Scientists cannot predict all possible threats of harm GM technology may pose to human beings. It's probably too soon to really know if GM crops are a good idea," said Yuan Longping, who has been dubbed the Father of Hybrid Rice in China.
"Rice is the most important staple food for the Chinese people. We firmly oppose the technology being put into mass production, and its commercialization in a rush, as health risks have not yet been ruled out," Fang said.
"To ensure food supply, we have options with no potential health risks such as biological agriculture," he said.
Another concern is the potential environmental consequence of modified genes escaping from GM rice to unmodified crop counterparts through cross-pollination.
"GM organisms can spread through nature and interbreed with natural organisms, thereby contaminating non-GM environments and future generations in an unforeseeable and uncontrollable way. Their release is 'genetic pollution' and is a major threat because GM organisms cannot be recalled once released into the environment," Fang said.
Several escapes of seed have occurred around the world, including releases of unapproved GM crops such as rice and corn into human consumption streams. For example, in 2006, the European Union halted imports of U.S. rice when an unapproved strain was found in the food supply.
Other widely cited environment concerns include the susceptibility of non-target organisms to the gene product, and the potential capability of GM plants to introduce modified genes into wild populations, leading to a loss of biodiversity.
Lu Baorong, a biodiversity researcher with Fudan University in Shanghai, is concerned too about gene flow from GM rice to its wild or weedy relatives. Wild rice plants are non-domesticated strains, and weedy rice, which is characterized by its seed scattering and dormancy, is thought to originate from rice crops as a result of mutations. Lu's team and another group have shown that the rate of gene flow from GM strains to wild and weedy rice is 3-18 percent and 0.01-0.5 percent, respectively.
"What is most worrying is that such gene flow is cumulative," said Lu.
This could threaten the biodiversity of wild rice, which provides a valuable gene pool for rice breeders.