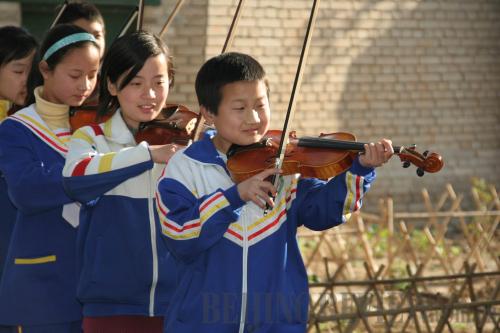 SOUND OF MUSIC: Members of the student orchestra of Dandelion Middle School practice on April 27 (JI NAN)
A student orchestra was set up with help from professors in the Central Conservatory of Music, China's top music education institution. Some student paintings were exhibited in a museum in downtown Beijing in early July.
Dandelion Middle School is mainly financed by charity. Most students in migrant children's schools are from low-income families, while wealthier migrant children usually pay high tuition and go to elite private schools or regular public schools, said Cheng.
The tuition and living expenses of poor students, about one third of the total, are covered by donations. The remaining students pay a modest tuition of 680 yuan ($100) per semester, rent of 50 yuan ($7.4) per month, and 6 yuan ($0.88) for three meals per day.
Volunteers from various organizations also come to the school to help. For instance, Duke University sends eight student volunteers to the school each year, and volunteers usually spend about three months there, said Kent Freeze, a volunteer coordinator and Ph.D. candidate from Duke. These volunteers mostly teach students English, and some also do research on student health.
Bright dreams
Research of randomly picked students reveal they aspired to go to universities and would like to stay in cities when they grow up.
Migrant children in Beijing cannot take the university entrance exam in Beijing and be admitted on equal footing as students with permanent Beijing residence.
Ren, who came to Beijing at 6, said that her parents want to send her back to her hometown for her last year of middle school. She will finish high school in her hometown and compete with students in her home province for one of a limited number of spaces in Beijing's universities allocated to students there.
Most of the students would not like to return to their hometown as they have spent so many years away from it and consider Beijing home, Cheng said.
For students who will not or cannot go to regular high schools and universities, Dandelion Middle School has a training program providing students with internship opportunities in Beijing companies.
Policy support
The government has adjusted education policies to give migrant children better access to public schools in cities. In May 2001, the State Council issued a decision on elementary education reform, which stated that government and public schools should undertake the main responsibilities to give compulsory education to migrant children.
Article 12 of the amended Compulsory Education Law published in 2006 stipulates local governments should provide conditions for migrant children to receive equal education.
The Beijing Municipal Government further opened its public schools to migrant children. In the meantime, it strengthened management of unauthorized private migrant children schools. In 2006, it closed down some of these schools and ordered others to improve.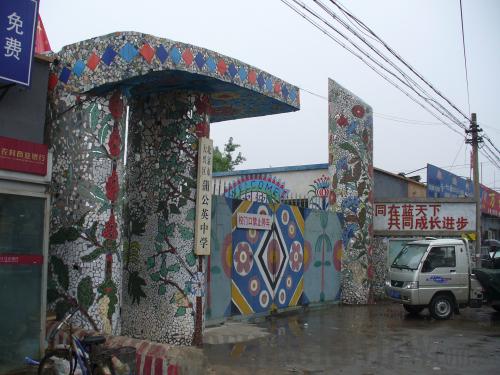 PATH TO OPPORTUNITY: The gate of Dandelion Middle School in a Beijing southern suburb on July 1 (WANG HAIRONG)
Liu Limin, head of Beijing Education Commission, told New Beijing Daily that currently 67 percent of the 420,000 school-age migrant children in Beijing are enrolled in public schools. Statistics from the Beijing Education Committee show that, at present the number of school-age migrant children is one third of school- age children with Beijing permanent residence.
In January 2009, Beijing Municipal Government abolished fees for temporary enrollment in primary and middle schools. Under the new guidelines, migrant children, dubbed "new Beijing citizen," will be treated the same as local children, said Han Jialing of the Migrant Workers Education and Action Research Center, Beijing Academy of Social Science.
Shortly before the National Day in 2009, the Beijing Municipal Government invested 13 million yuan ($1.91 million) to purchase equipment for the 69 government-authorized migrant children schools in the city. This was the first time the city gave a financial support to such private schools, reported Beijing Daily.
The Ministry of Education, together with six other ministries, issued circular this May, forbidding schools to charge migrant children temporary enrollment and other unreasonable fees.