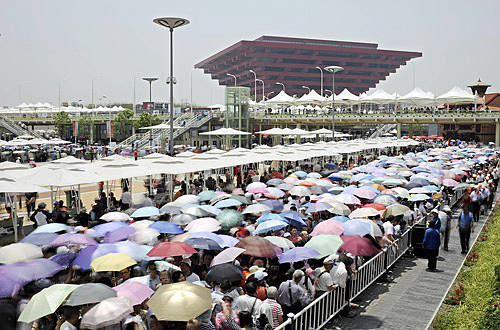 HEATED FERVOR: In bright sunshine, people stand in long lines to enter popular national pavilions at the Expo site on May 25 (GUO LEI)
Since Shanghai's sweltering summer started, the World Expo has become hot in two senses—a very high temperature and a large daily flood of visitors.
The 40 millionth visitor at the 2010 World Expo in Shanghai wandered through the turnstile on August 14, the 106th day of operation since the May 1 opening, which saw temperatures hover at 40 degrees Celsius.
Around 1:00 p.m., a high-temperature red alert was announced at the Expo site, indicating the temperature had reached 40 degrees Celsius. It was the third consecutive day of scorching weather.
An average of about 400,000 people swarmed into the venue each day in early August. The daily figure is expected to exceed 600,000 in September and October when the weather cools. The 10 millionth visitor to the Expo was seen on June 5, the 20 millionth on June 28 and the 30 millionth on July 21.
Before the Expo opened, organizers expected 70 million visitors from home and abroad. Considering 20 million ticket holders have yet to appear, the possibility of topping the 1970 Osaka Expo's attendance record of 64 million is more real than ever.
Yu Zhengsheng, Secretary of the CPC Shanghai Municipal Committee, said the number of visitors was "not a deciding factor" in its success.
"The 70 million figure is only an estimate. The venue's comfort level is more important. 'Administrative means' should not be used to organize visitors to the Expo in order to reach the goal," Yu said at an interview in August. He also warned that an extreme daily flow of 600,000 visitors could strain the Expo facilities and pose a major challenge for the organizers.
100-day summary
The Bureau of Shanghai World Expo Coordination says by August 8, the 100th day of operation, nearly 38 million visitors, about 95 percent of whom are Chinese and nearly 80 percent are non-Shanghainese, had come to the Expo site, and an average of about 450,000 visitors came to the Expo site per day in July.
The bureau also said shuttle buses at the Expo site had transported visitors on nearly 100 million trips, as the buses depart every 14 seconds.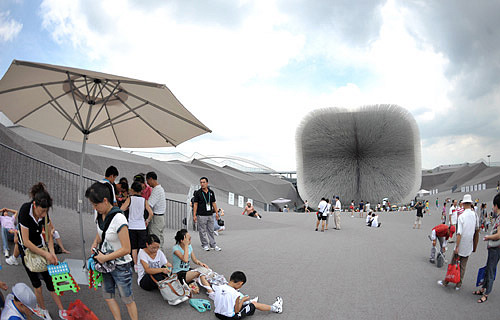 RECHARGING THEIR BATTERIES: People rest at the square in front of the UK Pavilion on August 10 (ZHOU HUA)
Besides visiting the 246 pavilions, 40 percent of the total visitors also watched a total of 11,700 performances at 32 venues. This equaled nearly 120 performances per day on average. During the 100 days, around 80 countries and seven international organizations had celebrated their national pavilion days and honor days. Moreover, about 20 cities had held promotional events at the 5.28-square-km Expo site.