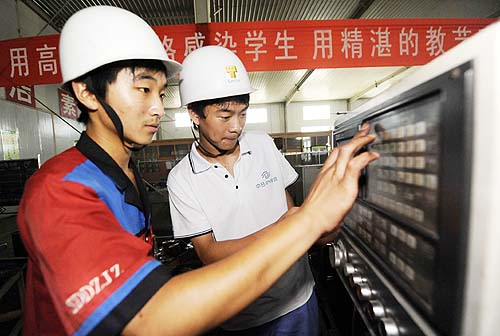 LEARNING SKILLS: Two students from Dezhou Automobile and Motorcycle Profession Studies College in Shandong Province learn to operate a numerical control machine on July 29. By the end of 2009, there had been over 6,000 technical schools and employment training centers in China (FAN CHANGGUO)
The Chinese Government issued a white paper on its human resources on September 10, highlighting the country's policies to cope with employment pressures and a lack of "high-level innovative talents."
The white paper titled China's Human Resources, released by the Information Office of the State Council, introduced the country's human resources situation, related laws and regulations and protection of workers' rights and interests.
Wang Xiaochu, Vice Minister of Human Resources and Social Security, said that the white paper, using more than 130 sets of data, accurately introduced the real condition of China's human resources.
The paper says China's 1.3-billion population was "a vast reservoir of human resources." China has a labor force of 1.07 billion people, 112 million more than in 2000, and the number of employees reached almost 780 million.
A nine-year compulsory education was made universal throughout the country in 2000, and illiteracy among people between the ages of 20 and 50 was basically eliminated, it says.
By the end of 2009, the average schooling for people above 15 years old had reached nearly 8.9 years, while that of the majority of the working population was 9.5 years. Out of them, 9.9 percent had received higher education, the paper says.
China has established a human resources development legal system based on the Constitution, including the Labor Law, the Civil Servant Law, the Labor Contract Law, the Employment Promotion Law and the Law on Mediation and Arbitration of Labor Disputes, the paper says.
To meet the demands of different groups in finding jobs and gear them up for different stages of career, the government has conducted vocational training programs. By the end of 2009, there had been over 6,000 technical schools and employment training centers and over 20,000 private vocational training institutions, the paper says.
From 2005 to 2009, more than 50 million new jobs were offered in cities, and nearly 45 million surplus rural workers were transferred to non-agricultural sectors.
To meet the need of establishing an innovative nation, the government has launched several hi-tech research and development (R&D) programs and trainings. It says full-time Chinese R&D personnel reached 2 million in 2008, nearly three times that in 1991, almost 1.6 million of whom were scientists and engineers. The number of post-doctoral researchers exceeded 70,000.
To promote human resource development in west China, the government has carried out a training plan for "the backbone personnel in the scientific and technological field" in Xinjiang Uygur Autonomous Region, Tibet Autonomous Region and Qinghai Province, it says.
China trained 2,888 ethnic-minority professionals last year, it says.
According to the paper, the government has gradually increased its input in human resources development, with an investment accounting for 10.75 percent of the country's GDP in 2008.
A multi-dimensional human resources market has gradually been formed in China since the 1980s as its economy, dominated by the public ownership, is growing along with diverse forms of ownership, it says.
The paper says it has been the government's consistent development concept "to respect people's right to work, stress the protection of workers' rights and interests, realize the dignity of labor and promote people's all-round development." After rapid development in recent years, the urban basic retirement insurance had covered 235.5 million people by 2009, the paper says.
On international exchanges, the paper says from 1978 to 2009, the number of Chinese who studied abroad reached more than 1.6 million, almost 500,000 of which had returned to China upon completion of their studies, and about 1.69 million foreign students from 190 countries and regions studied in China during those three decades.
The government also sent 50,200 officials overseas on economic management or other special training programs in 2009, it says.
China's Human Resources
I. The Basic Situation of China's Human Resources
II. Legal System for Human Resources Development
III. The Government Shoulders Human Resources Public Management and Public Service Responsibility
IV. Bringing Into Play the Fundamental Role of Market Allocation
V. Strengthening the Protection of the Legitimate Rights and Interests of Workers
VI. Actively Developing International Exchanges and Cooperation