GRAND OPENING: A scene at the opening ceremony of the 2010 Asian Para Games on December 12 in Guangzhou, south China's Guangdong Province (HAN CHUANHAO)
Guangzhou was a milestone in the life of many disabled athletes. To them, the 2010 Asian Para Games in the capital city of China's Guangdong Province meant much more than medals.
Under the slogan of "We Cheer, We Share and We Win," the Games highlighted the power of disabled athletes.
"Athletes showed extreme courage and determination in reaching the starting line, and would inspire millions of others by crossing the finish line," said Dato' Zainal Abu Zarin, President of the Asian Paralympic Committee at the Games opening ceremony on December 12.
"We will share in the ecstasy of victory, not only in those who win medals but of all those competitors who have made it here tonight. Just by being in Guangzhou as athletes you can count yourself a winner, a hero and a role model for others," he said.
More than 2,500 athletes from 41 countries and regions competed in the Games from December 13 to December 19.
In addition, more than 2,000 officials, 1,100 technical persons, 2,000 journalists and 300 VIPs from the Paralympic community took part.
The stories of many participants are inspiring to disabled athletes and the general public.
Lifting the weight off life
Rasool Mohsin of Iraq won the gold medal in the men's 56-kg powerlifting on December 14. He also broke the Asian record for this event by lifting 195 kg.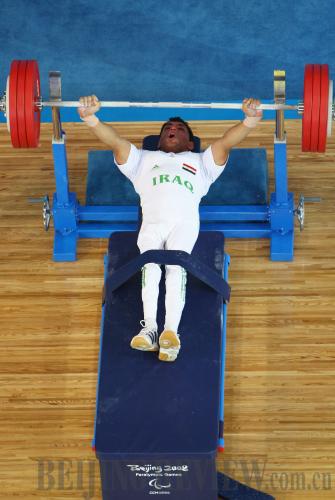 Rasool Mohsin (CFP)
The 23-year-old Mohsin lost one leg when he was a child. Although tormented by disability, he has a strong body and mind. He made a living by selling nuts on the street. Everyday, he pulled a 90-kg iron cart loaded with nuts.
Mohsin's brother, impressed with his extraordinary strength, encouraged him to go into sport. Mohsin began to practice weightlifting four years ago. Due to the war in Iraq, his life was not stable. Though he often had to change training sites to dodge warfare, Mohsin won a silver during the 2008 Beijing Paralympic Games.
Mohsin said he would like to dedicate his medal in the Guangzhou Games to his brother, who died in a car bombing four years ago. He said that he was glad that he gradually walked out of the shadows in his life. Powerlifting has turned him into a more confident and happier person, he added.
Never too old to start anew
Chinese shooter Ru Decheng, 48, was elated to win a gold medal in Guangzhou on December 14.
Ru was born in a village in Xinxiang, Henan Province. His right leg was handicapped by polio when he was 1.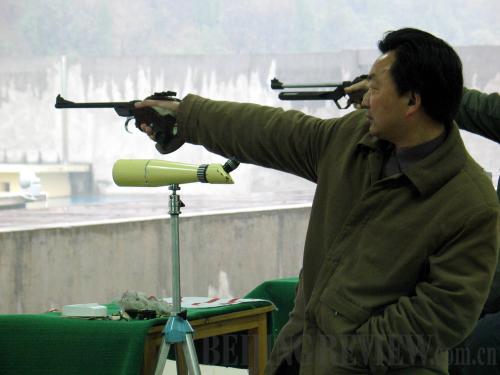 Ru Decheng (IC)
After finishing high school, Ru worked as a doctor in the countryside. Through distance learning, he managed to complete medical courses at the Shanghai University of Traditional Chinese Medicine.
Ru got married and has two sons. The younger son suffered from cerebral palsy. His wife also suffered from a bone disease called osteonecrosis of the femoral head.
In 1998, Ru, already 36 years old, saw a newspaper advertisement on recruiting disabled athletes. Because he was good at slingshot, Ru signed up.
After one year of training, Ru won a gold medal in provincial games for the disabled. He later entered the national team, and competed in international games.
After winning gold at the 2010 Asian Para Games, Ru said that he would continue to offer medical service to his fellow villagers.
Playing for the top
Another star at the Asian Para Games is Japan's Shingo Kunieda. He is currently No.1 in the International Tennis Federation's world wheelchair tennis singles ranking.
Kunieda, born in 1984, was an active child who enjoyed many sports, especially baseball. He played competitively starting in second grade, and dreamed of becoming a baseball player.
But his dream was smashed when he was just 8. He was diagnosed with spinal cancer and was paralyzed after surgery. He has lived in a wheelchair since then.