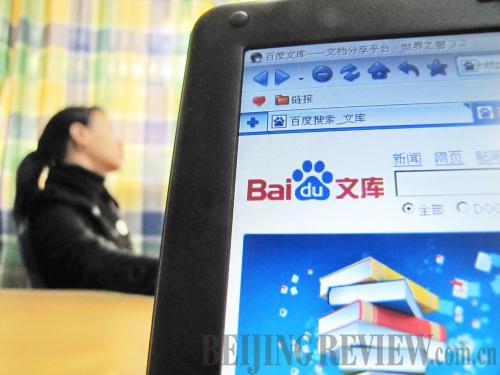 IN DEBATE: Baidu Wenku, which allows users to read, share or download books for free, is labeled as a hotbed for literary piracy by Chinese writers (CNSPHOTO) 
The latest work of 15 writers in China is a claim of copyright infringement against Baidu Inc., operator of the world's most-used Chinese language search engine.
The anti-piracy campaign was initiated on March 15. The writers complained in an online petition the company's online library, Baidu Wenku, had deteriorated into a corporate burglar stealing their material.
Baidu Wenku was launched in 2009 and allows users to read, share or download books for free. According to figures from Baidu, as of November 2010, documents uploaded by Internet users had stockpiled more than 10 million files and books, accounting for 70 percent of China's online file-sharing market.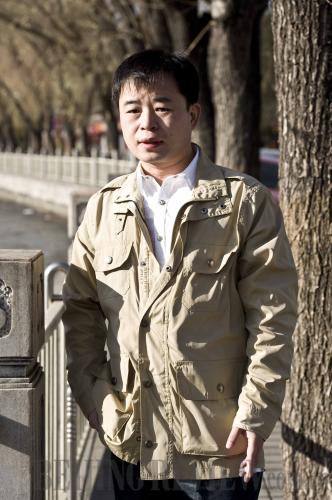 FIGHT FOR RIGHTS: Writer Hao Qun, best known by his pen name Murong Xuecun, accuses Baidu Inc. of copyright infringement with other authors in China (CFP) 

"Baidu Wenku has become very popular for free service and it makes a large profit for Baidu, I assume," said Hao Qun, a writer who is known by his pen name Murong Xuecun. "My own works face a very serious infringement issue through Baidu Wenku. Most of my novels get around 10,000 downloads each there. In total, my works have been downloaded on Baidu Wenku more than 200,000 times."

"We haven't made money from Baidu Wenku yet," said Baidu spokesman Kaiser Kuo. "But we intend to profit from the service in the future and share the proceeds out."

Negotiation and apology

On March 24, representatives of writers and publishers had a 4.5-hour-long negotiation with Baidu, but the negotiation finally ended in discord.

"We couldn't reach even one single agreement on any of the four topics we argued," said Lu Jinbo, a representative for publishers and manager of Wanrong Books. "Baidu

rejected all the writers' demands, including a request for compensation and for the suspension of the online library."

Han Han, one of China's top-selling writers, also blamed representatives of Baidu for being "arrogant" in negotiations with writers and refusing to admit any act of piracy had taken place.

But, Zhu Guang, Baidu's Vice President, said Baidu could not come to an agreement due to "insincerity" from the writers' representatives.

"I don't know what he meant by insincerity. We basically presented Baidu with four requests during our talks," said Hao, who represented writers at the negotiation. "First, we asked Baidu for an official apology, and compensation for our losses. Second, we asked Baidu to immediately put a stop to copyright infringement in general. Third, we asked Baidu to immediately stop providing content to the Aigo EB800 e-reader, which serves as a platform through which Internet users get free downloads. Fourth, we asked Baidu to take substantial measures to prevent infringing behavior from happening again. Baidu turned down all four requests. That's why the talks broke down."

"What we were asking Baidu for during the talks was 2.5 yuan ($0.37) in the future for each download. Most writers get 10 percent in royalties from the sale of each hard copy book, and given the average price for a book is around 25 yuan ($3.7) now, we suggested they pay 10 percent of that price for each download," said Hao.

On March 26, Baidu made a public apology to the writers and promised to delete infringing items within three days.

"Baidu attached great importance to copyright violation issues with upload documents in our database, and we have received a large number of notices from people in regard to copyright infringement. We have put all our efforts into mobilizing the department of technology to delete any infringing items in our database. We estimate all unauthorized use of items will be clear within the next three days," says the apology document. "In the meantime, we also noticed the presence of infringing contents in the library had hurt writers' feelings. As Baidu Wenku is a free document sharing platform, we would like to cooperate with authors and publishers through sharing revenue on advertising and reading fees on users, Baidu will give the majority of revenue to copyright owners."

Despite the apology, Hao said he wasn't satisfied.